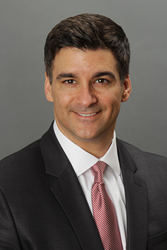 As an advisor who cares deeply about my clients, it is gratifying to have been recognized for my hard work
Atlanta, GA (PRWEB) November 18, 2015
Five Star Professional is pleased to announce Chris Cosenza, CFP®, Brookhaven Wealth Management, Inc., has been chosen as one of Atlanta's Five Star Wealth Managers for 2015.
Five Star Professional partnered with Atlanta magazine to recognize a select group of Atlanta-area wealth managers who provide quality services to their clients. Chris Cosenza, CFP®, is featured, along with other award winners, in a special section of the October issue.
"Brookhaven Wealth Management is focused on providing comprehensive wealth management and financial planning through tax-advantaged and risk management-based strategies for our clients in order to assist them in working toward their long-term financial goals," says Chris Cosenza, CFP®, of Brookhaven Wealth Management, Inc. "We help our clients attempt to simplify an ever-increasingly complex financial world."
The Five Star Wealth Manager award program is the largest and most widely published wealth manager award program in the financial services industry. The award is based on a rigorous, multifaceted research methodology, which incorporates input from peers and firm leaders along with client retention rates, industry experience and a thorough regulatory history review.
"As an advisor who cares deeply about my clients, it is gratifying to have been recognized for my hard work," says Chris. "I want to thank each and every one of them for their trust and loyalty. I look forward to continuing to provide my clients with sophisticated wealth management services for many years to come."
Chris, who had lost his father at a young age, was fortunate enough that his parents planned properly. "I know personally what the benefits of financial planning can mean to a family," This in turn allowed his family to stay in their home and allowed his mother to work and go back to school. Valuing financial planning from his own experience, Chris now offers his expertise and services to many families and businesses.
"It is a privilege to present exceptional wealth managers with the Five Star award each year. These select wealth managers have worked hard to get where they are with a deep knowledge of their industry and care for their clients," says Lynn Hargreaves, VP, Research and Services Operations, Five Star Professional.
Chris Cosenza's Five Star Professional profile can be viewed here.
Research Disclosure:
The Five Star Wealth Manager award, administered by Crescendo Business Services, LLC (dba Five Star Professional), is based on 10 objective criteria: 1. Credentialed as a registered investment adviser or a registered investment adviser representative; 2. Active as a credentialed professional in the financial services industry for a minimum of 5 years; 3. Favorable regulatory and complaint history review (unfavorable feedback may have been discovered through a check of complaints registered with a regulatory authority or complaints registered through Five Star Professional's consumer complaint process*); 4. Fulfilled their firm review based on internal standards; 5. Accepting new clients; 6. One-year client retention rate; 7. Five-year client retention rate; 8. Non-institutional discretionary and/or non-discretionary client assets administered; 9. Number of client households served; 10. Education and professional designations.
Wealth managers do not pay a fee to be considered or awarded. Once awarded, wealth managers may purchase additional profile ad space or promotional products. The award methodology does not evaluate the quality of services provided and is not indicative of the winner's future performance. 3,620 Atlanta wealth managers were considered for the award; 546 (16 percent of candidates) were named 2015 Five Star Wealth Managers.
*To qualify as having a favorable regulatory and complaint history, the person cannot have: 1. been subject to a regulatory action that resulted in a suspended or revoked license, or payment of a fine, 2. had more than three customer complaints filed against them (settled or pending) with any regulatory authority or Five Star Professional's consumer complaint process, 3. individually contributed to a financial settlement of a customer complaint filed with a regulatory authority, 4. filed for bankruptcy, or 5. been convicted of a felony.
For research methodology information visit http://www.fivestarprofessional.com.
Financial Planning, Investment Advisory Services and Securities offered through LPL Financial, A Registered Investment Advisor and MemberFINRA/SIPC
1418 Dresden Drive
Suite 240
Brookhaven, GA 30319