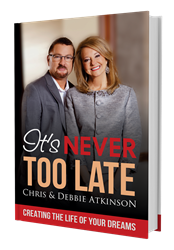 This is a story of transformation—of renewal—of redemption.
(PRWEB) April 29, 2015
Sometimes people get to a certain point in their lives and believe that it is too late for them to make a significant change. However, Chris and Debbie Atkinson know from first hand experience that it is never too late to change your life around. Chris went from total bankruptcy to a top salesman in Ambit, a direct sales company, making million in less than five years. Debbie left her 60-hour work weeks as a nurse to become a top earner in Ambit, and a sought-after motivational speaker and presenter, who shows others how they can live a life filled with passion and prosperity. Both of them wanted to determine the best ways that they could share their stories with the world, and so they decided to write a book.
It's Never Too Late, will be launching on May 12th, 2015 for everyone to pick up and read. In the book, Chris and Debbie outline the exact steps that they took to change their lives for the better and become the successful people that they are today. They teach everyone why it is important to dream big and to set goals for yourself that you can then focus on attaining. Having also experienced hardships in their lives, the Atkinsons are able to illustrate the power of persistence to their readers as well as the hidden power within each and every individual that they can tap in to and use to their advantage. It's Never Too Late really shows readers how they can live a prosperous life and fulfill their dreams.
Along with the release of their book, the Atkinson's will be delivering a keynote address at a conference at the Buffalo/Niagra Convention Center on May 16th. The event consists of a training session, dinner, a recognition rally, and an after hours party that all attendees can join in on. Chris and Debbie will be speaking and sharing their incredible story of personal and professional triumphs with everyone at the event.
Chris and Debbie Atkinson:
Chris Atkinson was a starving realtor before he began his network marketing career with Ambit Energy. Debbie was a Register Nurse when she met Chris just two weeks prior to joining him in Ambit. In October, 2006, they began their network marketing career, which has allowed them both to retire from their previous jobs. They are winners of the Thompson Leadership award, Impact award, Crystal Sphere award, and People's Choice award twice. Currently, they reside in Kemah, Texas, with their three sons.