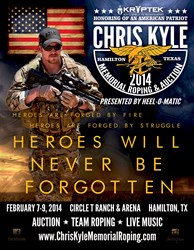 It is our duty to serve those who serve us.
Hamilton, Texas (PRWEB) December 03, 2013
The mission of the Chris Kyle Memorial Roping & Auction is to continue the efforts of CPO Chris Kyle, U.S. Navy SEAL by keeping with his motto, "It is our duty to serve those who serve us." Proceeds for the 2014 Event will benefit United States Veterans via Base Camp 40 - Warriors in the Wild (501c3), a company that Chris was involved with just prior to his untimely passing in February of 2013. Base Camp 40 - Warriors in the Wild honors our Military Veterans by offering participation in outdoor hunting adventures across the country. After visiting Base Camp 40 in 2012, Chris told family and friends that "Getting into the country and wide open spaces was therapy above and beyond anything else he experienced since leaving the (SEAL) Teams."
This event is being put together through a collaboration of Chris' parents Wayne & Deby Kyle, brother and sister-in-law Jeff & Amy Kyle, Chris' friends Scott & Vicki Brown, and Chris & Darcy Douglas. From Cowboy Boots to Combat Boots… Chris Kyle's dreams were to be a cowboy and a Navy SEAL. He accomplished both with a determination that is rarely seen. His service to his beloved country is a testament to his determination, fortitude, conviction, and warrior spirit.
The February 7-9, 2014 weekend festivities at the Circle T Arena in Hamilton, Texas include two days (Saturday & Sunday) of team roping competition, highlighted by a Saturday night Dinner / Auction with guest speakers Wayne Kyle, Jeff Kyle, and former U.S. Navy SEAL Clint Bruce of Trident Response Group at the Crossfire Steakhouse & Cantina in the Circle T Arena. Following the Live Auction, guests will be treated to Live Music from Morgan Crouse, Jolie Holliday, former U.S. Navy SEAL Christopher Mark Heben, and former U.S. Marine Scott Brown and The Scooter Brown Band.
Admission to watch the team roping competition is free. Dinner tickets will be available for sale on December 12, 2013 on the event website, or by phone at $250- each and is limited to 100 tickets. Concert admission is $10- at the door on Saturday, February 8th. Lodging at the Inn at Circle T sold out within 2 days of announcing the event, but event lodging is available at a discounted rate at La Quinta and the Holiday Inn Express, both in Stephenville, Texas.
About Chris Kyle
Christopher Scott "Chris" Kyle (April 8, 1974 – February 2, 2013) was a United States Navy SEAL known as the most lethal sniper in American military history. Kyle served four tours in the second Iraqi conflict and was awarded two Silver Stars, five Bronze Stars with Valor, two Navy and Marine Corps Achievement Medals, and one Navy and Marine Corps Commendation. He was shot twice, survived multiple helicopter crashes and was involved in six IED attacks.
Chris Kyle was born in Odessa, Texas to parents, Wayne & Deby Kyle. He has a younger brother, Jeff who is a Marine Corps Veteran - serving 2000 - 2008. Before entering the Navy, he attended Tarleton State in Stephenville, Texas where he rode bucking horses and worked ranches in that same area. A debilitating arm injury from rodeo competition almost cut his hopes of becoming a Navy SEAL, but in true Kyle fashion, he persevered and graduated BUD/S (Basic Underwater Demolition / SEAL) with Class 233.
Kyle decided to spend time with his wife, Taya, and their two children and was honorably discharged from the US Navy in 2009. He remained in the spotlight after leaving the Navy and wrote a New York Times bestselling autobiography, American Sniper, as well as another best-seller American Gun. He was President of Craft International until his death. Craft is a tactical training company for the US military and Law Enforcement communities.