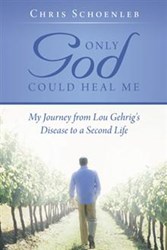 "God performed two miracles of physical healing, each time after doctors had given me no hope of a cure," Schoenleb says. "Through my struggles, I grew in faith and wisdom."
PHOENIX (PRWEB) December 12, 2013
Chris Schoenleb chronicles his journey from a devastating ALS diagnosis to a new and better life with God in his new memoir, "Only God Could Heal Me: My Journey from Lou Gehrig's Disease to a Second Life" (published by CrossBooks).
On Nov. 28, 1995, Schoenleb's life changed forever when he was told by the Mayo Clinic that he had Lou Gehrig's disease and no more than two years to live. In "Only God Could Heal Me," he tells the story of his Job-like struggles from the four years following the diagnosis and the wisdom he gained from this experience.
Ultimately, "Only God Could Heal Me" is a dramatic, true story attesting to the power of faith and prayer. It ends with Schoenleb receiving healing. His struggles led him to know God in a new and very personal way and he now considers himself to be a different person living a blessed second life.
"God performed two miracles of physical healing, each time after doctors had given me no hope of a cure," Schoenleb says. "Through my struggles, I grew in faith and wisdom."
"Only God Could Heal Me"
By Chris Schoenleb
Softcover | 6 x 9 in | 148 pages | ISBN 9781462731183
E-Book | ISBN 9781462731190
Available at Amazon and Barnes & Noble
About the Author
Chris Schoenleb is a professional marketer who recently retired after a long career in corporate management, a career he chronicled in his book, "Battling Marketing Myths." Schoenleb's specialty throughout his career was developing effective long-term strategic plans with memorable, effective advertising. His most notable successes include the Burger King "Have It Your Way" campaign in the 1970s and the Midas "The Midas Way, the Way it Should be" campaign in the mid 1990s. He is a gifted public speaker and currently serves as a lay church leader. He and his wife, Joanne, have four children and nine grandchildren.
CrossBooks, a division of LifeWay Christian Resources of the Southern Baptist Convention, is a Christian publishing imprint committed to bringing more Christian voices into the publishing industry. Established authors, first-time authors, and authors anywhere in between can meet their goals and fulfill their vision for their books by publishing with CrossBooks. CrossBooks' innovative style of publishing blends the best of traditional and self-publishing. While our authors contribute monetarily to cover the cost of publishing, we maintain a strict moral and quality standard that every manuscript must meet for us to publish. For more information on publishing your Christian book with CrossBooks, log on to crossbooks.com or call 1-866-879-0502.