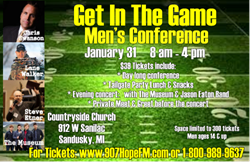 Just tweaking little parts of your life you can accomplish greatness.
Sandusky, Michigan (PRWEB) January 16, 2015
Chris Swanson has been dubbed an "expert in human transformation," and his soon-to-be released book, Tinman to Ironman, published by Next Century Publishing, gives insights on how anyone can transform his or her life for the better. Now, Chris has been invited to be the keynote speaker at the "Get In The Game Men's Conference" to be held January 31, 2015, at Countryside Church, 912 West Sanilac in Sandusky, Michigan. More information about the event, as well as how to order tickets, is available at https://wonderful-news-radio.brushfireapp.com/concerts/427980.
Chris Swanson, located on the web at http://swansonleadership.com/, has become a noted speaker and motivator for men and women of all ages. His new book, which will be published on May 26, 2015, discusses his lifelong study of how to help human beings discover their potential and completely transform their bodies, minds and hearts. Made up of 26.2 chapters reflecting the 26.2 miles run by Ironman competitors, each of which details events from Chris's life, this book is designed to give those who want to change their lives the tools to do so successfully. Pre-orders are now available.
Swanson, whose early life was marked by tragedy and discouragement, chronicles his own journey to success and incorporates many of the stories from his book into his motivational speaking. Along the way, Chris learned valuable lessons that he now shares with his audiences, such as, "Just tweaking little parts of your life you can accomplish greatness." His dynamic speaking inspires audiences to better themselves, no matter what their current circumstances. More information on Chris's speaking engagements and booking information can be found at http://swansonleadership.com/media/.
About Chris Swanson:
Chris Swanson is a motivational coach, speaker and author whose life-changing teachings help others to transform their lives successfully.