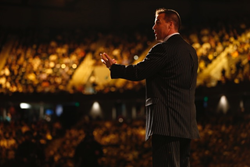 My plea to you is to identify, in your life, those things that you have always wanted to do and make a plan to do them. Take the risk.
Las Vegas, NV (PRWEB) April 22, 2015
Chris Swanson is on a mission to change your life. A career law enforcement officer with experience spanning nearly 20 years, Chris knows what it takes to work hard and get the job done. He wants to share this knowledge with everyone so that they can feel great about every aspect of their lives through his Swanson Leadership teachings. For more than two decades, ordinary people have been turning to Swanson Leadership in order to find inspiration and bring about extraordinary results in their lives that they didn't even know were possible. Chris reaches people through personal coaching packages, weekly insights on the Alph-Dog Blog, audio packs, as well as with his book, Tinman to Ironman.
In Tinman to Ironman, Chris shows readers that they can either be a Tinman, who just waits for things to happen to him, or an Ironman, who goes out and takes action to bring about change for themself. Chris teaches people how to realize which type of man they are and then explains how they can make the transition from Tin to Iron. The book gives readers chapters full of information and "Action Steps" that they can take in order to transform their lives right then and there, putting everyone on the path to an extraordinary life.
Chris will be speaking and sharing his knowledge at the Break Through Visi Global Convention in Las Vegas, Nevada on April 24th and 25th, for those who are interested. This convention, held at the M Resort, will feature training and leadership development that will teach those in attendance how to break through to increased levels of financial reward and team growth. Chris will be speaking on the morning of April 25th, the second day of the convention. All who are interested in finding success in their everyday and business lives should attend. For more information, visit http://www.visi-global.com/event/break-through-visi-convention-2015-april-24-25-2015/
Chris Swanson:
Chris Swanson, author and motivational coach, is the Undersheriff of Genesee County, Michigan, one of America's most dangerous communities. He commands over 235 sworn personnel and over 100 volunteers. He holds a Master's Degree from the University of Michigan. A four-time IRONMAN triathlete, Chris speaks at corporations, national organizations, high schools, churches and police departments throughout the United States.