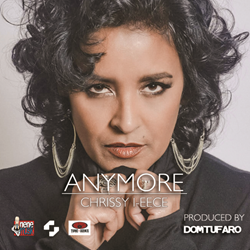 My focus is to keep it real and to work with the people that work as hard as I do. I consider myself a natural woman who keeps her heels on the ground and her head on her shoulders, where it should be" says Chrissy
Port St. Lucie, FL (PRWEB) July 28, 2016
Nene Musik Productions is proud to announce its brand new digital music release "Anymore" produced by Dom Tufaro of Tune~Adiks.
Already causing a stir at radio mix shows and nightclubs around the world, "Anymore" delivers with Chrissy I-Eece's powerful vocals.
Mixes include:
1. Anymore (Dom Tufaro Radio Mix)
2. Anymore (Dom Tufaro Extended Mix)
3. Anymore (Dom Tufaro Instrumental)
About Chrissy I-Eece:
Chrissy I-Eece was born in Brooklyn New York and raised in the Bronx, dreaming of becoming a star in the music industry.
Chrissy's achievements brought to life dance hits: "Love Desire" and "You Should Know By Now" (Produced by "Little" Louie Vega and written by Columbia Recording Artist, Marc Anthony) on Atlantic Records.
Her unlimited talent would not let her stay in one facet of the music industry. She went on to record her first Salsa album with producer/arranger Luis "Perico" Ortiz titled "Sangre Nueva Pa' La Calle" on RMM/Sony Latin. The single "Solo Seremos Amigos" featured a duet with the incredible Tony Vega. For Chrissy, this Latin album opened new doors. She later collaborated with Frankie Cutlass and Sergio George to give birth to the fusion of R&B/Pop and Latin music.
The new collaboration brought forth another Latin Hit called "Take Your Love and Go" (Written by Chrissy I-Eece and Sergio George) which features vocals of Salsa Legend; Hector Lavoe. Lavoe is featured singing his famous catch phrases that perpetuated his popularity in the Salsa world.
Chrissy has toured around the world and has pleased thousands of her fans in Japan, Spain, Tenerife (Canary Islands), Dominican Republic and Puerto Rico. She has been featured in numerous Japanese, Latin and American TV Shows, Radio Programs and trade magazines as well.
After taking a hiatus from the world of music to focus in plays, acting school and painting, Chrissy resurfaced to work with Nene Musik's CEO; Ruben Martinez.
"My focus is to keep it real and to work with the people that work as hard as I do. I consider myself a natural woman who keeps her heels on the ground and her head on her shoulders, where it should be" says Chrissy.
About Dom Tufaro:
Dom Tufaro (House/HipHop) made his DJ debut at Level Lounge NYC. Spinning live for the first time in front of hundreds of club goers, the young Disc Jockey caught the attention of many, near and far. Tufaro's unique style has attracted a number of fans that love not only his style of play, but his creativity as well.
He has played at various clubs including Lavo, Vip Room, Highline Ballroom, Webster Hall, Glo, Pacha's Hilton Beach Party to name a few as well as several venues Internationally Canada and Mexico. Forming a team with the Tune~Adiks, Dom Tufaro has produced tracks featuring Flo Rida, Snoop Dogg, Sean Kingston, Ne-Yo, Amanda Wilson, Lea Lorien and Tamara Wallace.
Today, Dom Tufaro has multiple releases and remixes available digitally. These include: Dom Tufaro & Louis Inglese "Brand New Life" f. Tamara Wallace, "Here We Go" EP, Dom Tufaro f. Lea Lorien "Love To Life", Po Johnson & Zeke Thomas "Monsters" (Be Brave) and Dom Tufaro f. Amanda Wilson "In Love Alone" to name a few. Tufaro has new releases and remixes coming in 2016.
Collectively the Tune~Adiks are rocking clubs internationally and gaining notoriety as one of the most powerful DJ/Production teams from New York.
Download the talented artist's new single "Anymore" on iTunes: https://itunes.apple.com/us/album/anymore-single/id1132873065
Amazon: https://www.amazon.com/Anymore-Chrissy-I-Eece/dp/B01I742LMA/ref=sr_1_1?ie=UTF8&qid=1469662160&sr=8-1&keywords=chrissy+i-Eece+anymore
About Nene Musik Productions, Llc.:
Nene Musik Productions, Llc. (http://www.nenemusik.com) was established in 1989. Today, It is a boutique Artist Management and Consulting Agency that services Recording Artists, International DJ's and Celebrities. Dennis Rodman, Cascada, Frank Reyes, Tegan Marie and the production team Tune~Adik's are just of few on Nene Musik's client roster. Nene Musik's experience and commitment to excellence have earned them the reputation as one of the best Artist Management / Consulting companies in the World.
For Interviews contact: 1.772.807.8305 or promo(at)nenemusik(dot)com