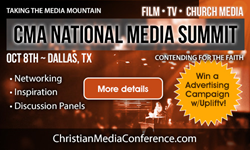 Proclaim among the nations what He has done
DALLAS, Tex. (PRWEB) September 24, 2015
On October 8, 2015, people involved in all aspects of media will assemble at 121 Community Church in Dallas, Texas for the 2015 CMA National Media Summit to "hone their skills" through educational workshops as they connect with other film professionals. This year's CMA Media Summit will be a one-day event and will include film screenings, a trailer contest and keynotes from internationally recognized speaker and business consultant, Dr. Lance Wallanau, and Dr. Robert Jeffress, Senior Pastor of the 12,000-member First Baptist Church of Dallas and a Fox News contributor.
Upliftv has sponsored a "Content-a-thon" and "Film Tank" for film trailers. The submission deadline is September 25, 2015 and includes both feature and short films; finished projects as well as projects in development. The top 5 finalists will win a CMA Upliftv 2015 Trailer Award and will then go on to the Film Tank to present their trailer and a project pitch to a panel of distributors and a live audience. The grand prize is a national advertising campaign with Upliftv.
Workshop topics range from "Screenwriting" with Rob Price, Communication Arts faculty from Southwestern A/G University to "Livestreaming" with Sherry Bronson of Bronson Media. Other topics include pitching your project, branding, legal advice, and much more.
Panel discussions include "Funding" with film producers Daniel Millican of Serendipitous Films, Chad Gundersen of Gundersen Entertainment, Curtis Wallace of CMD Distribution, and Brian Scott of Image Design TV; a "Distribution" panel which includes David Austin of Bridgestone Multimedia Group, Adam Hastings of Pure Flix Entertainent, John Chapman of Word Films, and Daniel Knudsen of Crystal Creek Media; and "How to Get your Content on National TV" with Bob Higley of Upliftv, Isaac Hernandez of Parables TV, Renae Christoffersen of Daystar Television Network and Tim Gray of Gray Media.
The evening will conclude with an opportunity to attend a film screening. Partial film screenings include "Return to the Hiding Place" presented by producer Petra Pearce and "Rather to be Chosen" with producer Daniel Knudsen. A full advance screening of "Woodlawn," with Adam Hastings, VP of Marketing of Pure Flix Entertainment will be available as well. "Woodlawn" is scheduled to release to theatres on October 16, 2015.
For more information or to register, go to http://www.christianmediaconference.com.
ABOUT CHRISTIAN MEDIA ASSOCIATION:
CMA started in 1992 as a support to churches utilizing media. By 2003, they were holding media conferences across the U.S. to teach and network Christians in media. In 2009, they started their first CMA Chapter in Dallas. The upcoming CMA National Media Conference set for October 17-18, 2014 is their first national conference which will connect hundreds of media leaders in film, TV, church media, video, motions, graphics and more through 50 workshops and 25 speakers over a period of 2 days. The mission of CMA is helping Christians in media to connect and build their media ministry with excellence and integrity.