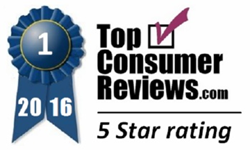 Christian Cafe has been connecting Christians in the dating world for nearly two decades... (they) earn our top rating for Christian Dating services.
Overland Park, KS (PRWEB) July 07, 2016
TopConsumerReviews.com recently awarded their highest five-star rating to Christian Cafe, an industry leader in Christian Dating services.
Online dating has grown to be one of the most common ways for people to find love. However, it can still be difficult for people to narrow down the pool of potential matches. Dating services that focus on a particular dimension of one's life make it easier to find someone that is likely to be a good match. Christian Dating services help people of faith identify other believers that are looking for a friend, a dating partner, or even a spouse. Christian Dating services vary widely with respect to fees, number of members, and features, so prospective members should carefully consider those factors as they choose a dating site to use.
"Christian Cafe has been connecting Christians in the dating world for nearly two decades," explained Brian Dolezal, of TopConsumerReviews.com, LLC. "Their services are both robust and affordable. In partnership with Single Christian Network, Christian Cafe's database includes an amazing number of available singles who all share the same faith, and membership plans range from two weeks to a full year. Even better, the service offers a free 7-day trial, so prospective members can try before they buy and see for themselves what Christian Cafe has to offer. Because of its large membership base and customer-friendly approach to membership options, Christian Cafe earns our top rating for Christian Dating services."
To find out more about Christian Cafe and other Christian Dating services, including reviews and comparison ratings, please visit the Christian Dating category of TopConsumerReviews.com at http://www.topconsumerreviews.com/christian-dating/.
About Christian Cafe
Christian Cafe has been successfully connecting Christian singles since 1999. More than 25,000 marriages have resulted from connections made using the site, from couples who lived in the same city to those who were originally on opposite ends of the world. Christian Cafe is independently Christian-owned, ensuring that the company shares the Christian faith and values of its members.
About TopConsumerReviews.com
TopConsumerReviews.com, LLC is a leading provider of independent reviews and rankings of hundreds of consumer products and services. From Christian Dating to Jewelry Stores and Elliptical Machines, TopConsumerReviews.com delivers in-depth product evaluations in order to make purchasing decisions easier.