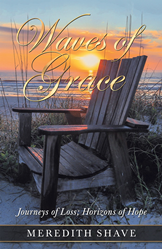 "It was difficult to write about some of the challenges that I faced in my life," Shave said. "However, I wanted to share my story with others who may be suffering from a great loss to let them know that God is there to help guide them through everything."
FERNANDINA BEACH, Fla. (PRWEB) January 28, 2019
Meredith Shave, a woman who lives the hope of Jesus with every sunrise on the Florida First Coast, has released her inspirational memoir, "Waves of Grace," in which she reflects on challenging moments she's faced in her life and relays sage wisdom about the lessons she learned from them. Empowering readers to find solace and comfort through God's love during their own trials and tribulations, Shave's book is peppered with scripture, inspiring devotions and the author's personal observations to present a genuine and meaningful reflection on life and faith.
On the cover of "Waves of Grace," Shave used one of her own photographs – an image of a lone wooden chair. This chair represents the loss and grief that Shave endured in her life through divorce, losing her mother to cancer and becoming a widow when her second husband passed away. Throughout her book, Shave taps into these painful experiences and demonstrates how her faith in God provided her with the strength she needed to cope with them.
"It was difficult to write about some of the challenges that I faced in my life," Shave said. "However, I wanted to share my story with others who may be suffering from a great loss to let them know that God is there to help guide them through everything."
Readers who are currently facing difficulties in life, whether experiencing heartbreak in a relationship, grieving the end of a marriage or coping with the loss of a loved one, can read Shave's story to reassure themselves that they are not alone in their pain and that their inner strength and faith in God will help them get them through these moments of hardship.
"Waves of Grace"
By Meredith Shave
ISBN: 978-1-9736-4232-9 (softcover); 978-1-9736-4231-2 (hardcover); 978-1-9736-4233-6 (electronic)
Available at the WestBow Press Online Bookstore, Amazon and Barnes & Noble.
About the author
Meredith Shave is a wife, mother and grandmother who resides in Fernandina Beach, Fla. In addition to working in the mortgage industry for more than 20 years as a senior mortgage consultant, Shave is passionate about writing and photography and is strongly connected with her faith. She grew up in the church and sang with her family's performing group throughout her childhood. Her life's story, as presented in "Waves of Grace," is a testimony to God's redeeming grace. To learn more about Shave and her book, please visit https://www.meredithshave.com/.
General Inquiries, Review Copies & Interview Requests:
LAVIDGE – Phoenix
Krista Tillman
480-648-7560
ktillman(at)lavidge(dot)com
###