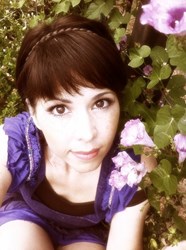 I think loving people through a mental illness is beautiful. It is unchanging and patient just like God".
Dallas, Texas (PRWEB) November 06, 2013
Heather McCready is a singer/songwriter with an uncanny ability to touch the soul. She has written the words "music is food for the soul". The recently deceased famous Christian gospel singer, George Beverly Shea, even wrote about Heather's first CD saying "Her voice, lyrics, and accompaniment captivate the senses and pour into your very soul". That is quite a compliment. It is no secret that Heather McCready is not only a talented folk artist, but is also a treated Bipolar woman passionate about providing hope to people with mental illnesses and educating others in order to fight stigmas. She speaks to universities and schools on the subject as well as sharing her experiences with bipolar disorder and suicides in her family at her music concerts.
Heather's most recent release, a single called "Love Takes Time", is a unique love song for a couple of reasons. First, the song was dedicated by the artist "to all those who love people with mental health disorders". Not a typical dedication for a song, but a pretty cool one! Heather counts herself as one of the lucky ones who has been loved and attributes her family's support and understanding of the disease to her successful recovery. She also shares an important new statistic, that 1 in every 4 Americans is touched by some form of mental health disorder. Here is a link to Heather's live debut of the song on Fox 4 "Good Day" in Dallas recently. She has a way of engaging listeners. The longer you watch the more she draws you in. http://www.youtube.com/watch?v=10Sh3MiZbX4. Listen until the end and see if you don't agree.
Another reason this love song is unique is because it is based on a higher form of love, true love as is described in the 1 Corinthians passage in the Bible. Heather McCready is not a preachy type by any means. In fact, although she is a deeply spiritual woman with roots in Christianity and was a world religions major at Baylor University, she is also an outspoken questioner who is skeptical of her faith. "I believe in things I can experience as Truth. And one thing that I have truly seen and felt first-hand is the biblical description of love I used as the basis for my song. I think loving people through a mental illness is true love. It is a beautiful thing, unchanging and patient just like God".
In an age where sex permeates our images of what love is, Heather's new love song is a refreshing change. It would make for a delightful wedding song and is a soothing addition to any chill time playlist. Highly recommend it! The song is available on the artist's website HeatherMcCready.com, CDBaby.com/heathermccready6 and is soon to be available on itunes along with the rest of Heather McCready's incredible five full-length CD collection.