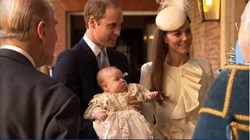 "We look forward to watching Prince George's style develop and to seeing which suits and tuxedos he might wear as he grows older."
(PRWEB) November 27, 2013
The leading online source for men's tuxedos and formalwear, TuxedosOnline.com, notes that since the royal christening, demand for ivory christening gowns has greatly increased. TuxedosOnline.com offers an ivory christening gown, similar to the outfit worn by the royal baby, Price George. Since the christening, demand for this and similar clothing grew exponentially.
TuxedosOnline.com's CEO Vrej Grigorian states, "The royal christening just happened in England. Since the christening, we've noticed that demand for our ivory christening gown has surged. Parents worldwide are looking for outfits similar to the one worn by baby Price George when he was christened by his parents Prince William and Duchess Kate of Cambridge. Because of this outfit's recent popularity, we believe this trend will continue for the upcoming months."
TuxedosOnline.com supplies a number of christening outfits, as well as boy's tuxedos and suits for infants and toddlers. TuxedosOnline offers traditional suits, as well as khaki suits, white suits, colored vests, and many more boy's formalwear options. For parents who aren't sure what style is best, TuxedosOnline provides fashion consultants. Moms and dads simply call 1 (888) 968-4TUX and select extension #2 for all the fashion help they might need.
Grigorian adds, "We look forward to watching Prince George's style develop and to seeing which suits and tuxedos he might wear as he grows older."
In addition to outfits for boys and toddlers, TuxedosOnline.com offers tuxedos for men and men's formalwear, as well as accessories such as ties, suspenders, cravats, and much more.
About:
TuxedosOnline.com has been named "Best of the Web" by USA: Tuxedos since 2008. The web-based vendor is the internet superstore for men's formalwear tuxedo shirts, tuxedo vests and tuxedo uniforms and is one of the oldest companies to sell tuxedos on the internet. They are highly rated on bizrate.com, eBay, and other internet rating services. Although the tuxedo rental industry has reported declines in the amount of rentals for the past few years, TuxedosOnline.com has grown over 40% a year for the past three years.
For the full range of tuxedos, including wedding tuxedos, accessories, shoes, and shirts, as well as the entire MODA Formalwear line, visit TuxedosOnline.com or call (818) 765-9479 or (888) 968-4TUX.