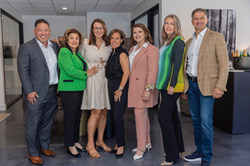 LOS GATOS, Calif. (PRWEB) September 02, 2022
Christie's International Real Estate Sereno is excited to announce the official opening of its Menlo Park office and showroom, Sereno at Home.
Sereno at Home in downtown Menlo Park is a community-focused retail experience and inspirational hub for luxury home design and decor. Bringing the best of all things home to Menlo Park, Sereno at Home displays a curated collection of local goods and products that are designed with the community in mind.
"We are thrilled to have a brick and mortar homebase in Menlo Park, having been committed to serving the area for many years," said Christie's International Real Estate Sereno co-founder, Chris Trapani. "We have always focused on community spirit and dedication to hyperlocal organizations and companies. This is another step in solidifying our mission to support the area in which we work, live, and play."
Located at 1158-A Chestnut Street, the 1,700-square-foot space features an open gallery-like area in front and showrooms in the back.
The space features artwork and luxury furniture from local artisans and makers, which is all available for sale. Furniture is provided by Meridith Baer Home, a premier home staging, interior design and furniture company. Photography is supplied by Bay Area local Becky Logan. Logan has a passion for the outdoors, which is displayed in her photography of the natural world, wildlife and flowers. Guests can also expect a rotating showroom of the latest home furnishings and accessories.
With more than 40 years of experience in Bay Area retail, the owners of Sereno at Home established a highly personalized experience that celebrates today's highest quality products and design.
About Christie's International Real Estate Sereno
Founded in 2006, Christie's International Real Estate Sereno is the largest locally owned and operated, independent real estate company in Northern California, with 17 offices and 580 agents in Silicon Valley, the SF peninsula, Santa Cruz, the East Bay, Lake Tahoe, and Sierra Foothills, producing over $6.8 billion in annual sales volume. Christie's International Real Estate Sereno is ranked among the top five brokerages in the nation for both per-agent productivity and the highest average sales price.
The company offers a highly curated support platform and provides agents with concierge services to strengthen client relationships along with world-class technology for well-executed transactions. Its agent-driven Sereno 1% For Good Charitable Foundation is changing lives in local communities, and to-date, has generated over $5 million in charitable donations given to 300 local organizations.
As a Christie's International Real Estate affiliate, Christie's International Real Estate Sereno is part of a network spanning 50 countries and territories with over 100 affiliate firms, offering incomparable services, including enhanced luxury marketing programs, access to auction and private services, and international PR and advertising opportunities to a global clientele at the luxury end of the residential property market.
The company has offices in London, New York City, Hong Kong, Los Angeles, and Palm Beach, and its affiliated brokerages have recorded approximately $500 billion of real estate transactions over the last five years.