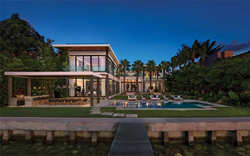 Art Miami has proven to be a unique and powerful marketing venue to promote both fine art and fine real estate
Miami, Florida (PRWEB) November 30, 2016
For the fifth consecutive year, Christie's International Real Estate, in tandem with nine Affiliated brokerages, will serve as the "Official Luxury Real Estate Partner" of Art Miami, along with CONTEXT Art Miami, the sister fair.
"Art Miami, one of the most heavily attended fairs in the world, has proven to be a unique and powerful marketing venue to promote both fine art and fine real estate," says Rick Moeser, Executive Director of Christie's International Real Estate. "The audience is wonderfully diverse, beginning with the seasoned collector and luxury real estate buyer to the emerging market of Millennial buyers, who are just starting their collections and homes in which to display their art."
Taking place November 29 - December 4 in midtown Miami during Miami Art Week, the fair will showcase thousands of master works including those by Frank Stella, Andy Warhol, and Roy Lichtenstein. Academy Award winner Adrien Brody will exhibit his latest works, following a string of exhibitions earlier this year at Art New York and Art Southampton. CONTEXT Art Miami — which has showcased a dedicated selection of emerging, mid-career, and established artists since its inception in 2012 — has confirmed 100 international galleries for its 2016 edition.
Together with nine network Affiliates, Christie's International Real Estate, will host an elegant booth at the main entrance of Art Miami, featuring luxury residential property offerings from around the world. Exclusive Affiliates participating at this year's fair are:

Blackstream in Greenville, South Carolina
Brown Harris Stevens Residential Sales in New York, New York
Chestnut Park Real Estate in Toronto, Ontario, Canada
Conlon in Chicago, Illinois
EWM Realty International in Miami and Ft. Lauderdale, Florida
Hilton & Hyland Real Estate in Beverly Hills, California
Premier Estate Properties in Boca Raton and Ft. Lauderdale, Florida
ReMind Group in Argentina
Regency Ltd. in Turks and Caicos Islands
Each year Art Miami attracts more than 85,000 new and established collectors, curators, museum professionals, members of the media, and art world luminaries. The internationally acclaimed modern and contemporary art fair boasts a 200,000-square-foot, gallery-like pavilion in the Wynwood Arts District showcasing paintings, photography, prints, drawings, design, sculpture and video art, with works from the 20th and 21st centuries. This year, more than 130 galleries from as many as 20 countries are slated to be on display.
— — — — — — — — — — — — — — — — — — — —
ABOUT CHRISTIE'S INTERNATIONAL REAL ESTATE
Supported by the esteemed Christie's auction house, Christie's International Real Estate is the world's leading network of real estate brokerages dedicated to the marketing and sale of luxury residential properties. The company has offices in London, New York, Hong Kong, Moscow, Los Angeles, and Palm Beach, and approximately 135 global Affiliates with 31,000 real estate professionals in 45 countries. For more information please visit http://www.christiesrealestate.com