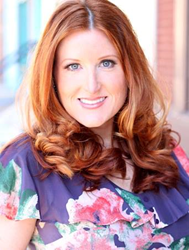 In the end, you have in your life what you believe and expect.
Mt. Laurel, NJ (PRWEB) October 06, 2014
The Get Out There – Live! Workshop is designed to provide women entrepreneurs and small business owners with a customized, step-by-step action plan that enables them to:

grow a flexible, freedom-based business online that they can run from anywhere
cost-effectively create more visibility, credibility, referrals and raving FANS
earn at least 10 times their investment before the year's end
In addition to the above-noted action plan, Workshop attendees will also get:
an exclusive 6-figure recommended resources rolodex
templates, scripts, sample emails, checklists, examples and other valuable "done for you" resources
the opportunity to participate in an on-stage "Business Makeover" with Christine Gallagher
the opportunity take advantage of live, personalized "Laser Coaching" from Christine Gallagher
"Women are now launching businesses at twice the rate of men," commented Christine Gallagher, the founder of ShesGotClients.com, a company dedicated to teaching women entrepreneurs worldwide how to leverage authentic relationship marketing and online strategies. "Social media and the modern web have completely changed the game, and for the first time in history, it's relatively simple for an ambitious entrepreneur to build a robust platform in ways only previously enjoyed by a select few. What these entrepreneurs -- and entrepreneurs in the making -- need is a roadmap that will help them navigate this brave new world: the tools, the technology, the step-by-step plan. That's what they'll get in this workshop, so they can serve more, stress less, and profit from their passion!"
New and experienced women entrepreneurs and small business owners who want to attend Christine Gallagher's 4th Annual Get Out There – Live! Workshop can register for the event at http://getouttherelive.com/. The website also features testimonials from previous Workshop attendees, an in-depth description of the content to be covered, and more.
For additional information or media inquiries, contact Tammy Maurer, Assistant to Christine Gallagher, at Tammy(at)ShesGotClients(dot)com or 856.672.4375.
About Christine Gallagher
Christine Gallagher is a potential and inspiration catalyst and founder of ShesGotClients.com, a company dedicated to teaching women around the globe (and cool men too) how to find more meaning, fulfillment and purpose in their life through the power of entrepreneurship.
Christine believes that when entrepreneurs find the courage to share their gifts and their message in a much bigger way, they will not only attract raving fans, enroll more clients, and enjoy more income, they also become a force for positive change in the world.
After applying Christine's proven marketing methods, which she teaches via her Impact Academy and live workshop, her students and attendees typically experience a significant increase in subscribers, clients, sales and lucrative joint venture opportunities. Most importantly, they find a renewed sense of purpose and passion, allowing them to step into their bigger vision, connect to their "why" in order to serve at the highest level, and make a lasting, true impact in the world through a business they love.
Learn more at http://www.ShesGotClients.com