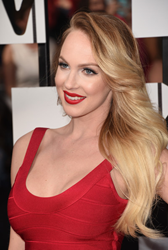 I've always been a horror film geek. I named my dog Teddy Krueger
Hollywood, California (PRWEB) June 09, 2014
Christine Bently proves that blood red is her signature color in her newest film to release, The Ghost of Goodnight Lane; the independent thriller is set to release this month.
The film chronicles an eccentric director, played by Billy Zane, attempting to reshoot scenes from his horror film starring glamorous movie star Laurel Matthews, played by Bently. Along with Bently's movie within a movie costar, played by Danielle Harris, and Zane's resourceful coworkers, played by Lacey Chabert and Matt Dallas, Bently must help battle off one relentless ghost who is tearing the haunted studio apart one body at a time.
"The irony of me playing such a successful actress was that I was working alongside Lacey Chabert, Danielle Harris, and of course Billy Zane, while I was a struggling Texas actress driving a beat up Ford Focus complete with a cracked windshield and outstanding parking tickets."
This is the fourth horror film for Bently. As such, it was no surprise she felt shooting the film was anything but scary. "My favorite scenes to film were the dark hallway scenes with Billy. In between takes we would crack jokes and bust out laughing. He also taught me my German accent which I still use to this day."
Bently's love for horror films does not just come from her past work. When asked which type of movie she is drawn to most she candidly responded, "I mean, I've always been a horror film geek. I named my dog Teddy Krueger for a goofy homage to Nightmare On Elm Street."
The Ghost of Goodnight Lane will be released June 10, 2014.