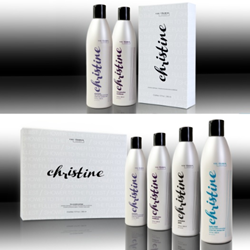 'The paraben and sulfate free products are designed to hydrate strands and prevent split ends. It's no wonder Drew Barrymore has such perfect locks!' Life&Style Magazine
LOS ANGELES, CA. (PRWEB) September 08, 2014
After a summer filled with the sea, salt, sun and swimming, hair can easily become brittle and break. Hair care expert Van Thomas knows the depths of hair's depravity and has developed a heady cocktail of ingredients to reconstruct and protect even the most damaged tendrils. Introducing the Life Complex™ collection from Christine by Van Thomas Concepts.
The exclusive Life Complex™ collection offers a unique formula to bring healthy hair back to life. Four nutrient-rich products are sulfate and paraben-free, and contain no harsh chemicals to ensure that only the finest ingredients can be absorbed to produce luscious new locks.
Van Thomas commented on his breakthrough in hair reconstruction. "Years of research, led to the development of Life Complex™. It became clear to me that three key ingredients are vital for hair—keratin, silk and jojoba. The Life Complex™ mixed with a special selection of essential oils create a prescription for protein replenishment and frizz reduction unmatched by any other hair care product on the market."
The Christine Shampoo, which contains a mix of black currant oil, grape seed oil, apricot oil and omega-6 fatty acid, cleanses hair, remove flakes and adds shine to promote healthy hair growth. The Christine Reconstructive Conditioner, which contains the highest concentration of Life Complex™, repairs damaged hair from the inside out, preventing breakage and reducing frizz while restoring proteins and vitamins into the hair with hemp seed oil, aloe vera extract, grape seed oil and olive fruit oil. The Christine Protective Glaze, used after shampooing and conditioning, protects against UV rays, heat and environmental damage, while The Christine Body Wash introduces the unique components of Life Complex™ to body care.
Christine by Van Thomas Concepts is committed to creating healthy hair, and invites everyone to reconstruct their daily shower and revitalize the life of their hair.
For additional information, please visit; http://www.vanthomasconcepts.com
# # #
PRESS CONTACT:
Pistol & Stamen info(at)pistolandstamen(dot)com/323.874.2100
ABOUT VAN THOMAS CONCEPTS:
Van Thomas Concepts LLC was founded in July 2011 by CEO Van Thomas. No stranger to hair care, Van has styled, lectured, and appeared in 36 countries in Europe, Latin America and Asia, and was honored with a nomination for the NAHA's North American Multi-Cultural Hair Stylist of the Year award. Van's wealth of experience comes from a storied 35-year career as both stylist and international education director for premier global beauty manufacturers. Regarded as one of the top educators and stylists across the globe, Van has spent nearly four decades perfecting his craft and educating other hair-care professionals – including some of the most celebrated stylists in the industry. Drawing inspiration from his late daughter, Christine, Van has developed a unique formula known as the Life Complex™, setting a new standard for salon-grade hair and body care. For more information, visit http://www.vanthomasconcepts.com or facebook.com/VanThomasConcepts.