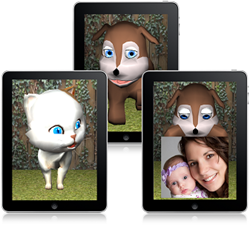 I love the GeriJoy Companion and it is truly needed... Every caregiver should have one.
Boston, MA (PRWEB) December 24, 2013
Through the Christmas Giveaways for Caregivers contest, caregivers can win prizes to help them relax and relieve stress - like a massage and manicure. Everyone who enters the contest will receive a complimentary ebook: 10.5 Very Useful & Free Resources for Caregivers.
The contest organizer, Michael Neuvirth, stated to the press, "I am so happy that GeriJoy agreed to participate in this contest for caregivers and I am grateful for their generosity in providing the GeriJoy virtual pet companion. I love the GeriJoy Companion and it is truly needed - it really does keep your loved one company plus it connects family and reduces caregiver stress. Every caregiver should have one."
You can learn more about this Christmas contest for caregivers and enter to win through the Caregiver Bargains website: http://www.caregiverbargains.com
About GeriJoy
GeriJoy Inc. was founded by MIT researchers Victor Wang and Shuo Deng to improve quality of life for seniors and their families through friendly technology. The GeriJoy Companion, their flagship service, is a virtual pet and companion for the elderly that is backed by GeriJoy's worldwide team of 24/7 care staff. The staff guide the pet's speech to provide elders with the experience of having an always-available conversational companion that can talk with them about family photos and other information from the Internet. Essentially, the GeriJoy Companion is a talking pet that serves as a helpful family member, not only reducing loneliness and improving mental health for elders but also providing peace of mind and reducing stress for caregivers. GeriJoy has been recognized by organizations like AARP, TEDMED, and the US Senate as a leading innovator in senior care. The company is based in Cambridge, MA, and is backed by investors such as Blueprint Health and Esther Dyson. To find out more, or to order GeriJoy's service for your own family or senior care organization, please visit http://www.GeriJoy.com or email info(at)GeriJoy(dot)com.
About Caregiver Bargains
Caregiver Bargains was founded by Michael Neuvirth, a U.S. registered patent attorney specializing in brain-based inventions and innovations. After volunteering at an Alzheimer's center and serving as a caregiver for a loved one who has Alzheimer's, Michael founded Caregiver Reviews, a product and resource review site for caregivers. After reviewing many products and resources for caregivers, Michael realized that many caregivers could not afford the products reviewed, even though they were very useful and saved caregivers a lot of time and effort. So, Michael created Caregiver Bargains to help such caregivers benefit from the available products and services for free or at significant discounts.