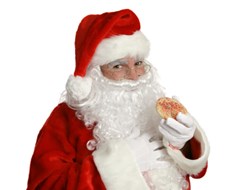 Jupiter, Florida (PRWEB) December 24, 2013
Christmas Eve 2013 has finally arrived and Santa Claus continues to send out personalized greetings to children all over the United States and Canada. DialMyCalls, a voice and text message broadcasting service, have teamed up with the famous Christmas character, Santa, to spread holiday cheer to tens of thousands of kids – 2013 marks the third year in a row for the free Santa calls event.
While eager children await the opening of gifts on Christmas morning, parents can deliver an early gift on Christmas Eve. In a few simple steps, a personalized call from Santa Claus can be delivered to children who will surely light up with joy when they hear Santa's voice on the phone.
"The partnership between DialMyCalls and Santa Claus has one goal in mind, spread holiday cheer to as many children and families as possible," says DialMyCalls CEO, David Batchelor. "We hope that our calls are able to make children smile on Christmas Eve as they patiently wait to open presents in the morning."
Each household can schedule up to three (3) personalized calls from Santa Claus. Additional Santa calls may be purchased for a small fee if three is simply not enough. Scheduling a call will only take a matter of minutes and then parents can just sit back and wait as Santa personally calls kids all across America.
Join in on the Christmas celebration this year by setting up a personalized call from Santa Claus – help DialMyCalls spread some holiday cheer this holiday season.
About DialMyCalls
DialMyCalls.com was founded in 2006 offers an extremely efficient and affordable web-based voice and SMS broadcasting system. Its third annual Santa Calls promotion is expected to big its biggest one yet as the company aims to spread holiday cheer to tens of thousands of children all across the United States.
For more information, please visit http://www.dialmycalls.com or call 800-928-2086. You can also email tsmith(at)ontimetelecom(dot)com for additional information.
###