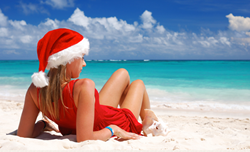 During peak travel times, such as Christmas, bundled deals through travel agencies offer competitive pricing and are often the most affordable vacations available.
San José, Costa Rica (PRWEB) September 25, 2013
Christmas is special the world around, and Costa Rica's unique traditions and whimsical touches guarantee an unforgettable holiday. Instead of icicles and sleigh rides, this Central American nation dishes up tropical breezes and hammock lounging – a novel slant on the season's typical charms.
There is no more beautiful time in Costa Rica than the Christmas season. Golden sunshine and warm days prepare for the coming holiday. Carolers sing their tunes of good tidings and towns twinkle with the glow of festive lights. It's a beautiful time to visit this spectacular country, and one of the year's best to enjoy the nation's cultural riches and historic traditions.
It's no surprise, then, that Christmas is a coveted time on Costa Rica's travel calendar, when hotels book up to a year in advance. But not to worry: local travel agency Costa Rican Vacations has a few tips for enjoying "Navidad," or Christmas in Costa Rica.
Tip #1: Be Flexible with Dates
For most, spending Christmas in Costa Rica means waking on December 25th to a tropical sunrise. But flexibility with arrival and departure dates, as well as non-standard vacation lengths – say, nine nights instead of seven – can yield the best flight and package deals. This year, Christmas falls on a Wednesday. That means most travelers will fly in the weekend before and depart the weekend following the holiday. Avoid the rush and save big by booking a few days before or after peak travel times.
Tip #2: Price Christmas Vacation Packages
According to Richard Bexon, VP of Sales at Costa Rican Vacations, "If there's one piece of industry info that few consumers know, it's that even the most independent travelers should check out vacation packages during holiday season. During peak travel times, such as Christmas, bundled deals offer competitive pricing and are often the most affordable vacations available. Try pricing your own trip, then compare the bottom line to Christmas deals offered through a travel agency. Many times, the travel agency has the better price."
Tip #3: Rooms Aren't Sold Out for Travel Agencies
In addition to great prices, travel agencies also have insider access to rooms at sold-out hotels and resorts. Every year, Costa Rican Vacations pre-books hotel nights, so even after the hotel may appear to be sold out, the agency still has rooms available. For travelers, this means later bookings are sometimes possible, even at Costa Rica's boutique hotels and top resorts. Don't wait too long though, as the in-demand properties tend to sell out by mid-October.
Tip #4: Don't Wait to Book
Christmas week is Costa Rica's most popular travel time, so when the travel agency sends an itinerary, vacationers don't have the luxury of time: book as soon as possible! A wait of even a day may mean losing the room to someone else who booked faster.
Tip #5: Find Hard-to-Find Flight Deals with a Wholesaler
When the cost of Christmas airfare threatens to keep a would-be traveler snowbound, the answer may be a flight wholesaler. Companies like Exito Travel, which specializes in discount flights to Latin America, are in the business of knowing which airlines offer unpublished flight deals. Booking a flight well in advance and through a less traditional resource is the first step in managing the cost of a vacation to Costa Rica.
Costa Rican Vacations is Central America's leading travel agency for personalized, socially responsible vacations. Every client is an old friend, and custom vacation packages are always created based on a traveler's unique "travel personality."