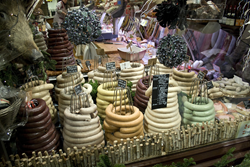 Although Christmas markets have now become a firm fixture in the UK's festive calendar they are a relatively new arrival here.
(PRWEB UK) 26 November 2014
Strolling the fairy-lit stalls of a traditional Christmas market on a crisp, dark December evening is a truly magical experience. The buzz of shoppers, strolling stalls aglow with colourful toys, gifts, jewellery and arts and crafts, and the frosty air heavy with the aromas of festive foods and the sound of carols create a unique Christmassy mood that is simply infectious.
Although Christmas markets have now become a firm fixture in the UK's festive calendar they are a relatively new arrival here, but in many towns and cities throughout Europe they have been popular for centuries; Dresden's in Germany, for example, was established in 1434.
Whilst Christmas markets are undeniably popular for their atmosphere and as the source of a variety of unusual gifts and goodies, a major attraction for visitors the wonderful food that can be found at these festive fairs. Looking beyond the usual mulled wine and Christmas cake one might expect, here the holiday rentals specialists at AlphaHolidayLettings.com reveal their pick of the best Christmas markets in Europe for food.
Colmar, north-eastern France
At Yuletide each year, the beautifully-preserved and historic town of Colmar in France's Alsace wine region hosts its annual Christmas market. Amid the half-timbered buildings of the Place Jeanne d'Arc visitors are treated to a feast of local speciality foods such as bredle aniseed; delicious round butter biscuits flavoured with aniseed or the gourmet foie gras for which Alsace is renowned.
Brussels, Belgium
It may be a newcomer to the scene but Brussels' Christmas market, established in 2002 and located in the Bourse financial district, is a sparkling example and offers visitors as much festive fun and frivolity as they can handle. Wooden chalet-style stalls are festooned with gifts and decorations, and as visitors browse they will find ample opportunity to try Belgium's famous beer, chocolates and waffles as well as shellfish specialities including fresh mussels and whelks.
London, England
London has quickly asserted itself as a must-visit Christmas market destination for dedicated foodies. Locations throughout the city mean that it is possible to combine sightseeing with Christmas market shopping to create a truly memorable London winter break. Special mention goes to the Real Food Christmas Market at Southbank where visitors can sample freshly-baked and traditional mince pies, and to Hyde Park's German-style Christmas market, at which the gingerbread just has to be tried!
Nuremberg, Germany
Germany's Christmas markets have attained almost legendary status and Nuremberg's, begun in the sixteenth century, is one of the country's finest. Drink in the heady atmosphere of mulled wine and spiced punch, listen as a local band and choir play carols and admire countless stalls of locally-made handicrafts, decorations and gifts. Oh – and don't miss the opportunity to enjoy some traditional Christmas lebkuchen (decorated biscuits, often ginger-flavoured), a Drei im Weckla – three bratwurst sausages in a bread bun, or some warming freshly-toasted almonds.
Prague, Czech Republic
At the beginning of each December, two of Prague's most beautiful medieval public plazas - Wenceslas Square and the Old Town Square – are filled with fairy lights and frivolity as Santa himself sets up home in the city's vibrant Christmas markets. When a break is needed from browsing endless stalls of Bohemian crystalware, hand-crafted wooden toys, Christmas decorations, jewellery and many other potential gift items, little can beat a glass of warm mead and a couple of vosí hnízda – rum cookies – to restore that glow of seasonal joy.
Hamburg, Germany
Standing in the square before Hamburg's stunning Town Hall, the city's most charming Christmas market is a feast for the senses. Carved Tyrolean wood decorations, ceramics from the Lausitz region and jewellery and silverware are among the many hand-crafted trinkets and gifts that tempt almost two million visitors to this most traditional Christmas market each year. Stopping awhile to admire the magnificent Christmas tree which dominates this nostalgic yuletide fair gives visitors the chance to enjoy local specialities such as chocolate-dipped fruit, printen cookies sweetened with honey and gluhwein (spiced mulled wine) to which, if desired, a shot of liqueur can be added to provide that little extra 'Christmas spirit'!
About Alpha Holiday Lettings
Alpha Holiday Lettings has rapidly established itself as one of the top holiday rentals portal sites in Europe and offers self-catering apartments, cottages and holiday villas in France, Spain, England, Portugal, Italy, Cyprus, Turkey and other destinations around the world. The majority of the properties listed on Alpha Holiday Lettings are privately owned and are booked directly with holiday home owners. For more information, visit http://www.alphaholidaylettings.com.