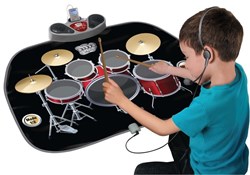 This year ParamountZone Ltd have added a massive range of affordable Christmas Presents For Boys.
(PRWEB UK) 30 October 2013
This year ParamountZone.com have a new and fantastic range of Christmas presents for boys.
All boys love playing darts but because the game involves sharp objects being thrown it does involve safety hazards. These fears have been extinguished in time for Christmas 2013 with the "Magnetic Darts" set. Here the darts stick to the board by means of a magnet which allows the boys to enjoy all the thrills a game of darts offers, but without the dangers.
For the boy who considers himself something of a magician the "Magic Hat" is an ideal Christmas Gift. The "Hat" is packed with tricks and gadgets allowing the boy magician to amaze and delight friends and family alike.
Boys have fantasies about the things they want to be in the future and for those yearning to be a rock star the "Drum Playmat" will make the perfect gift this Christmas. This gadget is made up of a playmat with a drum kit printed on the top side. When used with the drumsticks included in the pack it is as if the youngster is playing a full sized set of drums as the beat emerges through the integrated speakers. And parents don't even have to worry about the racket as this virtual drum can be connected to headphones.
Fantasies and movies appeal to the imagination of all boys and those adventures can be recreated thanks to the "Star Wars Minilight Saber." This Christmas gift available from Paramount Zone also has educational value as this Mini Darth Maul Mini Lightsaber arrives in kit form giving the youngster the satisfaction of constructing it before being able wield it like a character from the Star Wars movie. The famed red glow from the blade is created by Light Emitting Diodes allowing every boy using to pretend he is a real life Jedi Knight.
Keeping with the Star Wars theme this Christmas another great present for boys is the Star Wars Life-Size Cut-Out. The range included cut-outs of Hans Solo, Yoda, R2D2 and C3PO; great to play with out the back or to stand in the corner of the bedroom.
The website Paramountzone.com was started by founder James Morris in 1999 and has seen rapid growth over recent years due to an affordable range of fun gadgets and gifts. With a priority on originality, the Paramount Zone buying team search far and wide to bring the most innovative gifts and toys to customers.