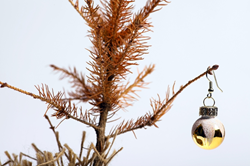 One-third of Californians say the drought will impact their choice of Christmas tree this season.
Los Angeles, CA (PRWEB) November 04, 2015
The severe drought conditions and restrictions on water usage in California are being felt in every aspect of daily life, including the way Californians will celebrate Christmas this season, according to a survey conducted by Nielsen on behalf of the American Christmas Tree Association (ACTA).
Thirty percent of the survey respondents said the drought will definitely impact their choice of Christmas tree this season. Of those, nine percent said they would display no Christmas tree. Four percent said they would reduce the number of real trees but would still have one real tree. Eighteen percent of respondents said they would start displaying an artificial Christmas tree and would not display a real tree due to the drought.
"Clearly, the drought is changing the holiday behaviors of many in California," said Jami Warner, Executive Director of ACTA. "While we believe there will be a sufficient supply of real trees available this season, they do require at least a gallon of water per day to keep from drying out and becoming a fire hazard," she said. "With harsh watering restrictions being mandated across the state, a gallon of water per day becomes significant, especially since Christmas trees are typically displayed for 36 days between Thanksgiving and New Year's Day," Warner added.
"Of course, we hope the drought will not keep those who celebrate Christmas from celebrating with a Christmas tree," Warner said. "The good news is that there are so many great options to choose from when considering what kind of tree is right for your family," she said. "The drought is very serious, not just in California but in many other parts of the nation. Rain is something we should all have on our Christmas wish list this season."
##
About ACTA:
ACTA is a non-profit organization formed with a mission to provide consumers with factual information about the Christmas tree industry. For more information, please visit http://www.christmastreeassociation.org.