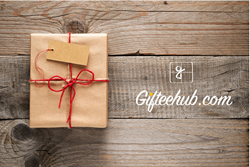 As we all know, the best gifts aren't necessarily products. It can be an experience or something personal and creative. For example, a first edition of a favorite book. We want everyone to contribute to finding these perfect Christmas gifts
Zurich, Switzerland (PRWEB) November 29, 2016
This Christmas, the gift recommendation platform "Gifteehub" runs a global competition to find the world's best gift idea. Anyone can submit gift ideas and ask their friends to vote for them on social platforms in order to increase the ranking in the competition. Cash prizes are awarded to the top three gift ideas by number of votes.
"As we all know, the best gifts aren't necessarily products. It can be an experience or something personal and creative. For example, a first edition of a favorite book. We want everyone to contribute to finding these perfect Christmas gifts and curate the content of Gifteehub to suit every taste and wish", says David Gomez Saavedra Founder and CEO of Gifteehub.
The gift suggestions in the competition can be as simple as a descriptive title and a picture or more elaborate, combining text, images and video. Participants can post content from blogs and online shops as long as they add a link to the original content and give credit to the content owner. Online shops that sell gifts are also encourage to participate.
The competition will run until December 24th midnight US central time. Until then, users can vote for their favorite gift ideas and post new creations. To participate and see the current results follow this link best gift ideas Christmas competition