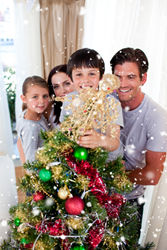 "Christmas trees are being utilized as a holiday design and decor element, as well as a holiday focal point. Consumers buying multiple trees is a growing trend," said Jami Warner, Executive Director of the American Christmas Tree Association.
Los Angeles, CA (PRWEB) December 14, 2015
Seventy-seven percent of U.S. households, or more than 99 million, will display a Christmas tree in their home this holiday season, according to the fifth annual Christmas tree survey from the American Christmas Tree Association (ACTA), conducted by Nielsen.
Of those Christmas trees displayed, 81 percent will be artificial and 19 percent will be real.
"Consumers have so many wonderful options when it comes to building holiday memories and traditions by celebrating Christmas with a Christmas tree, whichever kind of tree they choose, said Jami Warner, Executive Director of ACTA.
"From the dozens of varieties, sizes, shapes, colors, and buying options available, there really is a Christmas tree for every family, for every room and even the front yard," she added, referring to the growing trend of households purchasing and displaying more than one Christmas tree and utilizing Christmas trees as a holiday décor element, as well as the traditional centerpiece of the holiday decorations.
Eleven percent of households displaying an artificial tree will display multiple artificial trees, according to the survey. Five percent of households, or nearly five and a half million households, will display both a real and an artificial Christmas tree this year.
"This year's survey indicates that prices for both real and artificial trees have risen slightly but sales this season prove that consumers continue to see great value in their Christmas trees and are willing to pay a bit more for the right tree, or trees, that fits their family and their life style," said Warner.
"Clearly, Christmas trees remain a beloved part of the Christmas tradition in our country," said Warner.
Other key findings of the ACTA survey conducted by Nielsen, include:
· The number of real trees estimated to be sold this year is 22,617,000 million.
· The number of artificial trees estimated to be bought this year is 11,529,000.
· Consumers purchasing a real tree will spend an average of $25
· Those purchasing an artificial tree this year will spend an average of $50
· More consumers are purchasing their artificial Christmas trees online
· Eighty-five percent of households displaying artificial trees will reuse the tree they purchased one or more years ago.
· Artificial trees will be displayed for an average of 11 years
Methodology: American Christmas Tree Association insights are based on data collected by Nielsen through an English Language PanelViews Survey sent to a representative subset of U.S. households in the Homescan Panel; results are projected to represent total U.S. households. The survey was fielded in November, 2015.
About ACTA: The American Christmas Tree Association is a non-profit organization dedicated to providing consumers with factual information about Christmas trees and the Christmas tree industry. For more information, please visit http://www.christmastreeassociation.org.