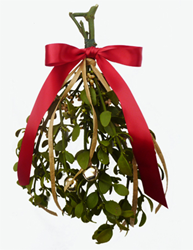 Oregon mistletoe crop is healthy and strong
Wilsonville, OR (PRWEB) December 01, 2015
The first fresh mistletoe shipments of the season are out, and the Oregon mistletoe crop is healthy and strong. Mistletoe.com will be taking orders and shipping mistletoe through December 16th.
Mistletoe is a time honored Christmas tradition. When hung high in a doorway, or other frequently passed location, unsuspecting passersby or happy couples caught under the mistletoe are subject to a kiss. Harvested from wild oaks in the Oregon oak savannahs, this year's Oregon crop received plenty of sun with this summer's above average temperatures.
ABOUT MISTLETOE.COM
Mistletoe.com is the leading online retailer of mistletoe products. Mistletoe.com has a variety of products to satisfy nearly all holiday mistletoe traditions, and quality is guaranteed. Ryan Saunders, the founder and CEO, says, "If I won't hang it in my mother's house, I won't ship it." The company website lists products ranging from a quaint 4 inch sprig to a hefty 10-12 inch mistletoe ball coupled with holly and bells. This year the company is offering a 10% Discount for customers using promo code Santa15.