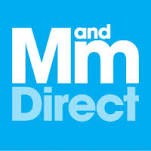 (PRWEB UK) 20 January 2014
Leading online fashion retailer, MandM Direct, is on course to achieve record-breaking revenues in the year ending February 2014, after a successful Christmas campaign resulting in a circa. 20% rise in full year profits.
MandM Direct's strong Christmas season peaked with a significant 55% rise in revenue for the week ending 22nd December 2013. This was reward for the company holding its nerve in a heavily discounted marked, with gross margins flat year on year.
Particular success stories were MandM Direct's sports category - which experienced record growth of 15% - and both the men's and women's footwear categories. The company is now predicting further record-breaking results in 2014.
Jonathon Brown, chief executive of MandM Direct, said:
"We're pleased that in a competitive Christmas market we were able to deliver a successful campaign and provide consistently good value for our customers. We are confident that our results will reflect this success and look forward to trading in 2014."
MandM Direct is on track to deliver a growth in export revenues of 55%, its highest-ever annual revenue of circa £120m and circa 20% increase in EBITDA.
Based in Herefordshire, MandM Direct delivered an outstanding choice of popular brands over Christmas, with customers choosing to purchase a variety of gifts from the comfort of their own homes.
About MandM Direct
MandM Direct is one of the largest online discount clothes retailers in Europe. Over the last 26 years the company has been dedicated to delivering the biggest fashion and sports brands at the lowest prices. Through consistently living the company's core values MandM Direct has attracted over one million active customers, receives 33 million visits a year to their website and has been awarded a number of prestigious accolades in the retail industry; including Etailer of the Year in the 2010 Drapers Etail Awards. To find out more visit MandM Direct.
Contact
Jonathon Brown
Chief Executive Officer at MandMDirect
T: 0871 664 1354