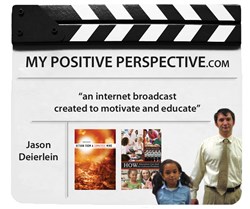 whenever we do things to help people grow, we grow as well.
Charleston, SC (PRWEB) December 17, 2013
On December 17, 2013 My Positive Perspective aired an episode about an event that is a purely positive tradition. The event is held at Johnson Hagood Stadium and brings together members of the downtown Charleston Community. My Positive Perspective host Jason Deierlein went to the event's location Johnson Hagood Stadium, which is also where The Citadel plays its home football games.
Gordon Cashwell, the event's founder was asked by Deierlein, "What gave you the idea for this event?" Cashwell responded, "Well we wanted to have a Birthday party for Jesus. So we prayed about getting a venue for it. My messages were getting out enough that I was contacted by sources associated with The Citadel." Cashwell continues, "Once we had the venue, we could then start the event. We had around 3,000 people come to the event last year."
Deierlein then asks, "What is the level of satisfaction you get from seeing your event achieve so much?" Cashwell replies, "The Bible implies that whenever we do things to help people grow, we ourselves grow as well."
My Positive Perspective is a media outlet believing that improvement in our community will be best achieved by focusing on the good things happening in our world today. Having survived a near fatal car accident as a youth, a shift of perception forced one to have a mentality of always concentrating on the brighter sides of things. This was true, and in my book, Return From a Comatose Mind, this belief was put to the test. Appreciation for life was the biggest thing one took away from my brush with death, and it is because of that gives me such a huge desire to be helpful to many. My Positive Perspective is a way of overcoming challenges through positive thinking.