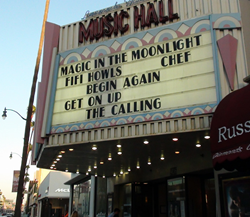 Los Angeles, CA (PRWEB) September 11, 2014
Art Promotions announces the first theatrical run of CHRISTMAS RIDE, a Road Trip to Remember, begins September 19 in the Laemmle's Music Hall 3 Theater at 9036 Wilshire Boulevard, Beverly Hills in Los Angeles County. Advance purchase of movie tickets is possible through this link: http://www.laemmle.com/films/38501. The 108 minute film will screen four times daily: 1:20, 4:10, 7:00, and 9:45 PM.
The story line: After hearing a frightening supernatural warning, Keri, a young mother, takes an urgent road trip south during the Christmas holidays with her two kids and a mysterious neighbor haunted by ghosts from his past. Keri faces dangerous situations and ultimately learns a heartbreaking truth which tests the limits of forgiveness.
The screenplay by Karen E. Francis garnered laurels at the Charleston International Film Festival, 2013.
Over sixty actors make up the cast of CHRISTMAS RIDE with the leads played by Brittney Ham and H. T. Altman. Child actors include Russell Walden and Reagan Britt Mullins who plan to attend the opening weekend of the film in Beverly Hills and be available for the
Q & A, as does the screenwriter. More about the actors may be found on the blog at http://christmasride.wordpress.com
The film includes a broad spectrum of music from classical and jazz to bluegrass and pop, including compositions by veteran Hollywood composer Kevin MacLeod and prize-winning singer songwriter Danny Jones, Edie Murphy (Los Angeles) as well as newcomers Kari Fleskes (TN). More about the musicians on http://www.artprofilms.com
This film hails from Tennessee, being produced by Art Promotions in cooperation with Yarbrough Media Productions. Art Promotions started in McLean, Virginia twenty five years ago and specializes in paintings, prints, and productions. It relocated to Memphis, TN in 1995. Yarbrough Media Productions calls Covington, TN home, the location of many scenes in CHRISTMAS RIDE.