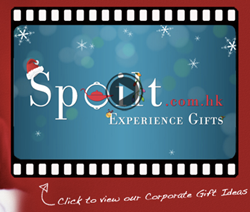 (PRWEB) November 04, 2013
Corporate Christmas gifts as experience gifts are a memorable and unique way for companies to thank employees for their hard work or to show their appreciation to customers and partners. With the Christmas season fast approaching, large corporations and SME's in Hong Kong are always looking for new ideas for Christmas gifts, lucky draw gifts, long service awards, employee rewards and corporate gifts to say "thank you" to their most valuable clients.
Instead of gifting the boring bottle of wine or Christmas food hamper this year, experience gift companies offer one of a kind experiences and events that are designed to impress and dazzle guests. Experiences range from water sports to private cooking classes to racecar driving. Experiences can be customized to meet specific requirements and fulfill every wish. Experience gift companies in Hong Kong offer full service, hassle-free shopping through their websites. Experience vouchers are purchased online and can be customized with a personal consultation with a specialist. Some experience gift companies like Spoilt HK offer additional perks like a price guarantee that the event will never cost more than it would to organize on their own and an easy reservation process that makes booking and planning the experiences a breeze.
With the holiday season just around the corner, Spoilt HK has launched a video outlining the bestselling and most popular corporate experience gifts in Hong Kong. In the fifth spot is the W Hong Kong Spa Massage (HK$1,180) where clients or employees will be pampered with a relaxing massage at the hands of a talented masseuse at a 5-star hotel. Or opt for the adventure of a lifetime by hopping in the pilot's chair of a Boeing 737 for a Flight Simulator Experience (HK$990). Another top experience is the Masterchef-like Kitchen Cook-Off for 8-20 people (HK$780 per person). However, the most popular experience remains the Chair Massage in the Office (HK$1,980) where a masseuse will come to the office or place of business and offer 10 -15 minute stress-buster massages for each employee. Not only will employees be grateful, but their productivity will skyrocket.
Spoilt is an online retailer that specializes in unique experience gifts in Hong Kong. Spoilt Experience Gifts offers over 100 experiences in the categories of water, flying, driving, gourmet, creative, pampered and outdoor. Experience vouchers are presented in elegant personalised gift packaging and delivered to the recipient by courier. All experiences are carefully curated to ensure a top quality experience and Spoilt handles all the preparations so the corporate clients don't have to lift a finger.
For more information about Spoilt's experience gifts, please visit the Spoilt website http://www.spoilt.com.hk.