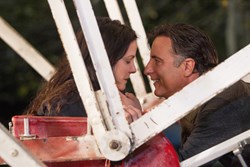 Mary-Louise Parker describes "Christmas in Conway" as "unabashedly romantic."
Kansas City, MO (PRWEB) November 26, 2013
Oscar, Emmy and multiple Golden Globe award nominee Andy Garcia (The Godfather Part III, For Love or Country: The Arturo Sandoval Story) and Mary-Louise Parker (Emmy and Golden Globe winner for Angels in America; Golden Globe for Weeds; Tony Award for Proof) are joined by Mandy Moore (Tangled, The Princess Diaries), Cheri Oteri (Saturday Night Live, Grown Ups 2) and Riley Smith (90210, Radio) in "Christmas in Conway." The Hallmark Hall of Fame presentation premieres on ABC Sunday, Dec. 1, 2013, 9-11 p.m. ET/PT.
Andy Garcia plays Duncan Mayor, who decides the perfect Christmas present for his beloved wife, Suzy (played by Mary-Louise Parker), is a ride on a real Ferris wheel, set up in their own back yard. Why? Because it was while riding one years earlier that Duncan asked Suzy to marry him.
Mandy Moore plays Natalie Stringer, a home-care nurse who moves in with Suzy and Duncan to care for Suzy – much to the annoyance of Duncan, who resents the intrusion. Riley Smith plays Tommy Harris, a landscape designer who's working on a project with the Mayors' irascible next-door neighbor, played by Cheri Oteri.
Love is in the air, and not just between Suzy and Duncan. Romantic sparks also fly between Natalie and Tommy. "It's probably an exaggeration to say it's love at first sight," says Mandy Moore in an on-set interview. "But, that said, there's certainly an attraction at first sight. We're about the same age, we're both sensitive, caring people, and we're both unattached."
Theoretically, Natalie is attached when she meets Tommy, but that existing relationship is going nowhere, and Natalie manages a clean, painless break.
Mary-Louise Parker describes "Christmas in Conway" as "unabashedly romantic." She continues, "There's pure devotion between these two characters, Suzy and Duncan. There's no dark history, no betrayal. Just total love between two human beings.
"It's usually the darker story that gets told, and that's the story I'm usually attracted to as an actor. But the purity of Duncan and Suzy's love, the enduring nature of their love, that's what attracted me to this."
Andy Garcia says, simply, "It's a beautiful story." He adds, "The notion of a man loving his wife so much that he'd build this Ferris wheel in their back yard so they can relive a magical moment in their life together... When they told me Mary-Louise Parker was involved, I said, 'Okay, I'm in.'"
"Christmas in Conway" is directed by John Kent Harrison (What the Deaf Man Heard, The Courageous Heart of Irena Sendler). The script is by Stephen P. Lindsey (Hachi: A Dog's Tale) and Luis Ugaz. Hawk Koch (Source Code, Gorky Park) and Brent Shields (The Magic of Ordinary Days, Remember Sunday) are executive producers. It is produced by Andrew Gottlieb (Have a Little Faith, Christmas with Holly). It is from Hallmark Hall of Fame Productions.