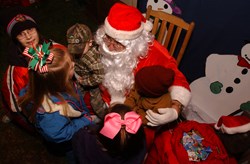 A grand Zambelli fireworks show will be launched from the center of Caddo Lake to conclude the festival.
Shreveport-Bossier, LA (PRWEB) December 02, 2013
Area residents and out-of-town visitors are invited to the annual Christmas on Caddo Fireworks Festival at Earl G. Williamson Park in Oil City, Saturday, Dec. 7. Activities kick off at 3:30 p.m. with 40 acres of shopping, food, and family fun along Caddo Lake. Louisiana native and country music artist, Travis Whitehead will perform his southern rock/country music followed by a grand fireworks show at 6:30 p.m. Admission is free.
Whitehead will be performing music from his newest album, which is set to release at the beginning of next year. He has played with many country artists, such as Frank Foster and the Mike Mancy Band. Other entertainment will include local groups and performers.
The festival was originally created as a way for the locals of Vivian and Oil City to come together with Christmas entertainment. After 19 years, the Christmas on Caddo Fireworks Festival has grown into an even larger event with travelers coming from all over the region and neighboring states.
"This festival is about building the community," said Mary Dunn, Christmas on Caddo president. "Young and old can come together and celebrate during the most wonderful time of the year."
The 40-acre park will be filled with artwork of local artists and shopping booths by local vendors. An array of fair-style food, such as turkey legs, corndogs, and funnel cakes will be available for purchase and a clown will be there to create balloon animals for the children. Santa will be present for photo-ops and will provide a toy for each child. A bounce house and other games will also be available.
Concluding the festival that evening, there will be a grand Zambelli fireworks show beginning at 6:30 p.m. The fireworks will be launched from a boat at the center of Caddo Lake lasting until 7:15 p.m. A Christmas on Caddo Fireworks Festival t-shirt will also be available for purchase for $15 that night.
For more information about the Christmas on Caddo Fireworks Festival, visit christmasoncaddofireworks.com or contact Mary Dunn at 318-631-0182 or mdunn76635(at)aol(dot)com.