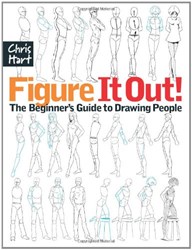 I believe it is virtually impossible, unless you are already an accomplished artist, to copy a drawing of the human figure simply by looking at a finished picture.
New York, New York (PRWEB) October 08, 2013
In Figure It Out!: The Beginner's Guide to Drawing People, now available in paperback from Chris Hart Books -- the best-selling author of over fifty popular how to draw books presents a figure drawing book filled with simple concepts to help aspiring artists or the occasional doodler draw the human figure with ease.
"I believe it is virtually impossible, unless you are already an accomplished artist, to copy a drawing of the human figure simply by looking at a finished picture," Christopher Hart explains, "therefore, I've used easy-to-follow, progressive steps. New elements in each step are drawn in blue so that you can see exactly which lines have been added to each step. In addition, there are countless hints that call out helpful techniques used by professional artists. These techniques are often subtle, but important, and make all the difference in drawing."
Chris Hart has a head for figures — human figures, that is. Not only does he draw them with incredible style and flair, he also has a friendly, accessible teaching style that makes his how-to books super-sellers. In this unique figure-drawing course, Chris avoids the usual anatomy lessons that intimidate aspiring artists and gets right down to the basics young illustrators need to get started. Starting with heads and facial expressions, he moves on to full figures, male and female, ideal and average, some in fashion poses and others in dynamic action. On every page, his practical advice and clear examples will help readers achieve terrific results — and have fun every step of the way.
"My goal in drawing and writing this book is to be helpful, inspiring, and, not least of all, to make drawing figure fun," says Chris Hart. "Everything in it is geared toward getting you drawing faster than you thought you'd be able to, and at a higher skill level than you thought you could."
About Christopher Hart
Christopher Hart is the leading author of How-To-Draw books on art instruction. He has had over 50 books published, which have sold over 3 million copies, domestically. He is published by Random House, the world's largest publisher. Chris Hart's books are also international hits, having been been translated into more than 20 languages. His books cover a wide array of popular, contemporary drawing subjects, from cartoons to manga, from animals to human anatomy, from basic drawing to vampires, and more. His work is noted for personality-packed characters and humorous writing. In addition, his books are profusely illustrated with clear step-by-step instructions.
Chris Hart's book, "Manga Mania: How to Draw Japanese Comics" (Random House) was the top selling art book in the United States continuously for over a year. In addition, he has had the top 1, 2 and 3 art books in the country, simultaneously ("Manga Mania," "Anime Mania," and "Drawing Cutting Edge Comics," published by Random House).
Chris Hart's books frequently appear on Nielsen Bookscan, the publishing industry's standard rating system for the top 50 most popular books in the country, which appears weekly, according to subject category. His popular series on drawing manga, "Manga for the Beginner," appeared on Bookscan's Top 50 list in the Art Category for two straight years. Every title in that 4-book series has appeared on Bookscan's top 50 list, with three of them having appeared numerous times, simultaneously.
Chris Hart's How-To-Draw videos have been produced by F&W Media and by Howcast. He has hosted his own show, on drawing comic book characters, on Activity TV, which is part of the Comcast Network. His work has appeared in numerous national magazines, including American Artist.