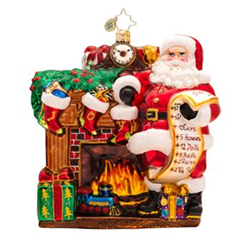 Veteran Christopher Radko ornament designers, Joseph Walden and Mario Tare, have created a joyous and inspirational collection of hand-made glass Christmas ornaments for 2014
Duluth, GA (PRWEB) July 17, 2014
Christopher Radko Gallery is excited to announce the Christopher Radko ornaments for 2014. This new assortment of Radko Christmas ornaments includes over 600 of the finest hand-made, European glass collectibles. The 2014 Christopher Radko ornaments are available for immediate shipment from Christopher Radko Gallery with free shipping and incentive promotional offers.
The new collection of 2014 Christopher Radko ornaments includes Limited Editions, Charity Awareness, Bridal and Baby designs as well as holiday classics such as Santa's, snowmen, Christmas trees, and sleighs.
The 2014 ornament, "Joyful Visit," was selected for the Christopher Radko Designer's Choice award and captures the warmth and child-like wonder of the holidays. The Joyful Visit Christopher Radko Designer's Choice ornament depicts an inviting scene of a classic Santa leaning on a warm, crackling fireplace adorned with holly, stockings, and a clock. Designed by veteran Radko artists Joseph Walden and Mario Tare, "Joyful Visit" is a collector's item that will be highly sought after this season.
Every year, Christopher Radko designs a themed set of 12 unique ornaments only available for the current year. The 2014 Christopher Radko ornament set is titled "Christmas Around the World," and each of the 12 collectible ornaments are decorated with their country's native clothing and icons. Best-sellers from the "Christmas Around the World" collection are sure to be "Swedish Glow," which depicts a Swedish maiden wearing a traditional candle crown, and "National Treasure Nick," which showcases Radko Claus holding the Liberty Bell and carrying a star-spangled present bag. The Christopher Radko "Christmas Around the World" ornaments are available individually or in the set of all 12 by special order.
The 2014 Christopher Radko Limited ornaments truly convey the spirit of Christmas. "Ruby Red Kringle" depicts a classic portrayal of Santa Claus holding a green bag full of presents, while "Kringle Cracker" shows Saint Nick as a Nutcracker holding a lantern and a star-staff. One of the most exceptional additions to the Radko Limited Edition collection is "Wisdom on Display" showcasing a silver owl with bright gold eyes, sitting in a glass cage with a gold base.
Christopher Radko prides itself in working with charity organizations by designing ornaments for specific charities each year. The Christopher Radko 2014 Charity Collection supports various cancer research groups, such as Breast Cancer Awareness with the "Pretty in Pink" Radko Santa ornament, Pediatric Cancer Awareness with the "Toy Soldier Topper" ornament, and the Lymphoma Awareness "With Arms Wide Open" snowman ornament. Other organizations included in the Christopher Radko 2014 Charity collection range from Mental Illness Awareness (Bring Change 2 Mind Santa), Autism Awareness (Holding on for Hope), HIV/AIDS Awareness (Ruby Remembrance), and World Hunger Awareness (Hands Across the World).
Christopher Radko Gallery is an authorized Christopher Radko retailer and a division of Peace, Love & Decorating. Christopher Radko Gallery, located inside Peace, Love, and Decorating at 3129 Main Street, Duluth, Ga., just 30 minutes north of Atlanta, offers the 2014 Radko ornament collection online at http://www.radko-christmas.com and in-store.