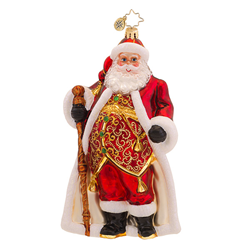 The Christopher Radko ornaments from the mid-year collection offer a preview of future design direction and continue to be top sellers year after year.
Duluth, GA (PRWEB) August 13, 2014
Top Christopher Radko retailer, Christopher Radko Gallery, is pleased to announce the 2014 mid-year ornament collection now available for pre-order. This smaller Christopher Radko collection of glass ornaments is a preview of the Radko artists' design direction for the 2015 season. The new 2014 mid-year Christmas ornaments include an assortment of colorful and festive holiday collectibles.
Crafted with the finest attention to detail, the thirty-four new Radko ornaments, available from Christopher Radko Gallery, are handmade in Eastern Europe by skilled artists with time-honored techniques that enhance the intricacies of each ornament. As with every Christopher Radko ornament, the 2014 mid-year collection includes pieces that embody the magic of a one-of-a-kind Christopher Radko heirloom.
An immediate standout from the hand-crafted Christopher Radko 2014 mid-year collection is Vest Day of the Year Santa. This ornament features a classic Radko Santa Claus in traditional holiday attire, holding a winding red and gold staff and sporting an ornate vest detailed with gold stitching and green buttons. Truly a unique ornament, the Christopher Radko Vest Day of the Year captures the joy and magic of Christmas.
Other highlights from the Christopher Radko 2014 mid-year ornament collection include new animal pieces such as the sly Foxy Bandit and the sophisticated Winston Ornament, which depicts an English bulldog in a bowler and tie. The adorable Marching Baby Bear ornament, which features a bear cub holding a "Baby's First Christmas" wreath, is a wonderful addition to the animal ornament collection as well as the baby collection.
Joining the best selling Christopher Radko Surf & Sun series, the Seaside Chalet Christmas ornament adds a unique flair to the Christopher Radko 2014 mid-year collection and is sure to be a best seller. The Radko Seaside Chalet features a gold, shimmery sand castle highlighted with accents of pink starfish and blue seashells. The Christopher Radko Kringle Twist 2014 dated ornament, which shows Santa wearing a red and white striped 2014 hat, is also sure to be a top seller this holiday season.
Christopher Radko Gallery is pleased to offer free shipping with orders over $75, and a free full size Christopher Radko ornament with orders over $300. Each heirloom glass Christopher Radko ornament proudly wears the Radko charm and comes with the official Christopher Radko gift box.
Selected for its exemplary customer service and extensive year-round ornament selection, Christopher Radko Gallery is proud to be a premier Christopher Radko online retailer as well as a brick and mortar galaxy store. The 2014 Christopher Radko ornament collection is available on-line at http://www.radko-christmas.com/ and in store. Christopher Radko Gallery, a division of Peace, Love & Decorating, is located just north of Atlanta at 3129 Main Street in historic downtown Duluth, Georgia.