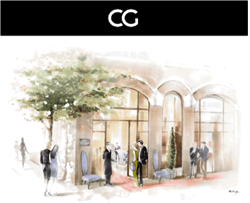 "The new showroom builds upon a successful eight-year partnership between Christopher Guy and the Denos family, as both parties believe in offering a personal touch to each and every customer." - Paul Watson, President of CG Americas
Chicago, Ill. (PRWEB) July 29, 2016
Global luxury lifestyle brand creator Christopher Guy Harrison and Midwest design entrepreneur Jim Denos launched the new Christopher Guy (CG) Chicago Showroom on the evening of July 28, 2016.
Over 300 guests attended the lavish celebration held in the CG space, located in the Chicago Luxury Furniture Centre in downtown Chicago. Guests enjoyed a red carpet welcome, ribbon cutting ceremony and a champagne toast, before celebrating beautiful designs and CG pieces in the newly renovated showroom. Pieces from the 2016 CG Collection were premiered at the showroom alongside other designs that have featured in major Hollywood motion pictures and television series.
Photos can be viewed and downloaded at:
https://www.dropbox.com/sh/zo146zi1dcl3fcb/AAACRIB1YQnL8TCA20t2Sa3Ea?dl=0
"The official launch of the Chicago showroom was a magnificent success. It was a delight to meet so many guests who share our passion for design, elegance and classic values with a contemporary feel," said Christopher Guy Harrison, chief designer and founder of Christopher Guy. "Our Chicago showroom adds to the expanding portfolio of spaces and CG is proud to share our visions across the world. We have enjoyed a fantastic relationship with the Denos family and also our customers and friends in the great city of Chicago. This new showroom offers Midwest customers the most unique space to enjoy CG pieces."
"The Chicago showroom adds to the expanding and impressive portfolio of spaces that Christopher Guy is unveiling around the world. We are increasing our market share as we are providing customers with spaces where they can truly experience what it is like to live in a home created by Christopher," added Paul Watson, President of CG Americas. "The new showroom builds upon a successful eight-year partnership between Christopher Guy and the Denos family, as both parties believe in offering a personal touch to each and every customer."
The CG showroom encompasses three floors in the 40,000 square foot, six-story building which Mr. Denos personally redesigned and owns. Other brands at the same address include Atelier and Clive Christian.
Mr. Denos was born and raised in Chicago, and his partnership is highly regarded by Christopher Guy. He added, "I am delighted that so many friends, customers, designers and local influencers came out to join us for our launch. The creation of the CG showroom has been a labor of love, so to experience such great reactions from guests was the perfect way to confirm our vision was right for Chicago. Customers want a real feel for furniture and our space really allows them to experience Christopher's pieces in the most personal and practical way. We are proud that this is the latest success in our long standing partnership with Christopher Guy."
The Christopher Guy showroom is located at the Chicago Luxury Furniture Centre, in the hub of the River North Design District at 371 W Ontario Street, Chicago and is open seven days a week from 10 AM – 5 PM.
For more information regarding the event or further images or video files, please contact Ms. Birgit Müller at + 1 (323) 332-9520, or cgpr(at)brandamb(dot)com, or Mr. James Desborough at pr(at)brandamb(dot)com.
Both Mr. Denos and Mr. Harrison are available for select interviews within the new few days.
About Christopher Guy:
Christopher Guy Harrison, an award-winning internationally renowned designer, is the founder and CEO of luxury furnishings brand, Christopher Guy. His creations were brought to life in the mid-90s when he set out to create the world's most fabulous and unique mirror frame collection under the name Harrison & Gil. He began building his workshops after acquiring a plot of land in Java, where he sourced the best craftsmanship from local artisans. Today, these workshops cover more than one million square feet, and Christopher Guy has evolved to creating a complete luxury lifestyle that offers timeless values.
With presence in over 42 cities including showrooms throughout North America, Europe, Asia, and the Middle East, Christopher Guy offers a fresh approach to design, transcending modern, traditional, and cultural boundaries. Christopher Guy creations are selected by leading designers and retailers, from the grandest hotels and most spectacular resorts, to the world's finest residences. The brand's stylish appeal and often elaborate aesthetics have led to cameo roles in many iconic movie productions such as Casino Royale (007), Ocean's Thirteen, The Hangover, The Devil Wears Prada, Charlie's Angels 2, and The Interview.
Whether as statement pieces in luxurious hotels or on Hollywood film sets, Christopher Guy's timeless and elegant designs are widely acclaimed as the world's most fabulous decorative furnishings.
Contact information:
Birgit Müller
Brand Ambassador for Christopher Guy
+1 (323) 332-9520
cgpr(at)brandamb(dot)com
###