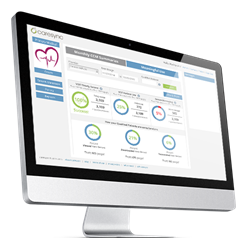 Most electronic medical record programs are not designed or prepared to meet the strict requirements of the CCM code.
Chicago, IL (PRWEB) April 13, 2015
The first company to provide Chronic Care Management services and software has leveraged its first quarter experience to launch new workflows for its full-service and software-only clients for simpler onboarding of patients and reduced effort for provider practices.
Medicare's new Chronic Care Management (CCM) code, CPT 99490, went live on January 1, 2015, with requirements that are at the same time strict and ambiguous. CareSync's patient-focused platform was poised to accommodate the code when it was announced, and the implementation and development teams have worked with live practices since January 1 to improve workflows that simplify the experience for staff and patients, and continue to exceed the expectations of the code's intent.
Simple Interoperability
In an effort to further advance interoperability efforts, CareSync was a winner at the Health Experience Refactored code-a-thon last week with it's integration to Allscripts' open architecture. The new functionality will ensure that CCM patient data is immediately ported to CareSync's Care Plan and distributed electronically to the patient's community providers and caregivers. The quick turnaround creates zero work for the CCM provider's office team and engages patients immediately with the doctor's orders in a useful, actionable format. The groundbreaking integration launches next month, and others are scheduled to follow.
Records Exchange
The biggest barrier to providing coordinated care to the patients who need it is the records exchange between providers. While records in a single system can be shared, most patients are not solely cared for within that closed environment. Medicare's requirement is to have a Comprehensive Care Plan created from the practitioner's session with the patient, and that plan must take into consideration the patient's unique physical, emotional, and environmental situation. Without the record, that care plan cannot be created. CareSync facilitates the exchange of records in a patient-centric environment and uses structured data to create a Comprehensive Care Plan directly from the providers' orders.
"Most electronic medical record programs are not designed or prepared to meet the strict requirements of the CCM code," said Travis Bond, CEO of CareSync. "Providers can rest assured that they exceed Medicare's requirements and bridge the EMR interoperability gaps with the CareSync solution."
About CareSync
CareSync is the leading patient-centered engagement solution that combines technology with 24/7 concierge services to facilitate care coordination among patients, family & caregivers, and all providers.
CareSync provides turnkey Chronic Care Management services and a software-only option, allowing practices of any size to easily meet the billing requirements for CPT code 99490. Additionally, CareSync's certified technology makes it simple for providers to meet Meaningful Use 2 for Data Exchange, Messaging, and Timely Access.
CareSync patients are at the center of their healthcare, with access to health information, actionable goals, and Comprehensive Care Plan tasks, and as a result, are experiencing more productive medical appointments and better health outcomes.
To learn more about CareSync, visit http://caresync.com, call 813.658.3749, or follow us on Twitter @CareSync.
Let's Meet at HIMSS
We're here at HIMSS15 this week at Booth # 8191, Kiosk S-74, in the HX360 Innovation Pavilion. Our COO, Amy Gleason, is speaking at the following events:
April 12, 9:30 AM - 10:30 AM, Room S403: Access to Data - Patient Portals, Blue Button, Open Notes
April 12, 1:00 PM - 2:00 PM, Room W475: Dutch eHealth Exchange Programme, @himsseurope, #DEE on Twitter
April 15, 3:15 PM - 3:45 PM, Booth 8127/Connected Patient Gallery: The Voice of the Patient