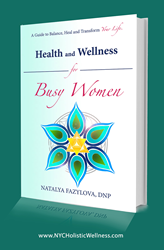 Nourish your body. Invest in yourself. Lifelong adventure to healing and transformation starts NOW using our unique holistic health & wellness approach.
New York, NY (PRWEB) August 03, 2016
The concept of "chronic fatigue syndrome" (CFS) has only appeared recently in medicine—within the past 20 years. Since its recognition, each year, more cases of this condition are reported—especially in those who live and/or work in developed and industrialized cities. The appearance of CFS is directly correlated with the sharp acceleration of life's rhythm, increasingly burdensome mental and psychological stress, as well as deteriorating environmental conditions.
Chronic fatigue syndrome is not a condition that is the result of the occasional lack of sleep; but rather, unfounded, pronounced, debilitating body fatigue that does not go away after adequate rest and prevents the patient from performing activities of daily living.
The most common symptoms of CFS are fatigue coupled with severe insomnia or non-restorative sleep, post-exertional weakness, and cognitive dysfunction, often called "brain fog." Other symptoms of CFS might include: joint pain without redness or swelling, significant impairment of short-term memory or concentration and headaches.
New York based Radiance Aesthetics & Wellness Practice now offers a unique and comprehensive chronic fatigue syndrome treatment that is effective and brings quick results.
Under the guidance of Dr. Natalya Fazylova, a top holistic health practitioner, the practice offers treatments to people suffering from chronic fatigue syndrome. Dr. Fazylova utilizes a holistic approach and focuses on individual patients, recommending solutions that can prove effective in a specific condition of the patient.
Dr. Fazylova reveals that Chronic Fatigue Syndrome is not a deadly disease and most people recover from it with proper treatments. She states that it is very important to identify an underlying cause of the symptoms and eliminate the problem. Dr. Fazylova conducts different diagnostic tests, such as saliva and blood test to measure levels of hormones, fasting insulin and blood sugar levels , other blood tests to measure levels of cholesterol, vitamins, electrolytes and antibodies in the body to identify the hormonal imbalance that could be behind the fatigue and stress.
Dr. Fazylova focuses on individualized treatments, which may also include lifestyle and dietary changes. She states that the treatment often requires several months to bring in effective results, as the chronic fatigue syndrome doesn't occur overnight. Radiance Aesthetics & Wellness utilizes a comprehensive and holistic approach and offers many effective treatments and solutions to rejuvenate and heal the symptoms.
About Dr. Natalya Fazylova, DNP, ANP-BC, BCIM
Natalya Fazylova is a Doctor of Nursing Practice and an Associate Professor at the City University of New York. She is Board Certified as an Integrative Medicine Practitioner by The American Association of Integrative Medicine.
Dr. Fazylova earned her Bachelor and Master of Science from Hunter Bellevue School of Nursing and her Doctor of Nursing Practice from PACE University. In her postgraduate education, Dr. Fazylova became a certified Chinese Herbologist through the New York Institute of Herbal Medicine, a Certified Integrative Nutrition Health Coach through the Institute of Integrative Nutrition, and an Aesthetic Laser Certified Specialist.
For Media Enquiry –
Contact Person: Dr. Natalya Fazylova
NYC Holistic Health & Wellness Specialist
903 Lexington Avenue, Suite 1A
New York, New York 10065
Phone: (212) 988-0500
E-mail: info(at)nycholisticwellness(dot)com
Website: http://www.nycholisticwellness.com