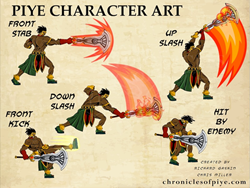 Toronto & Nashville (PRWEB) April 18, 2014
Following on the heels of Kemstar Media's successful Kickstarter Campaign to help raise funds for the Piye Chronicles mobile game, Piye Chronicles is now in the mid-stages and production. It will be an action-packed side scroller game with exotic backgrounds and a plethora of daunting enemies to wage epic battle against. And of course, let's not forget the big bosses that must be defeated at the end of every level before advancing to the next. The Piye Chronicles mobile game will also feature various game items that can be used for extra points and powerups.
The Piye Chronicles Mobile game is based on the Chronicles of Piye graphic novel & comic series which has attracted an international fan base. Game players can expect to see some exotic backdrops to the action and some unique enemy characters who will make their first appearances in future issues of the comic series and graphic novels.
With more issues of Chronicles of Piye planned for this summer as well as the production of a new science fiction title, Kemstar Media's greatly anticipated classic side scroller, currently in development, should give comic and game fans something exciting to look forward to. If you haven't read the comic series or graphic novel, you can buy physical or digital copies from Amazon, Lulu or Indie Planet by visiting the Chronicles of Piye's official website. where you can also pick up some stylish merchandise.