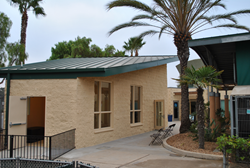 The Cottage will help care for the many animals that live here before adoption. Donations will help keep the progress going - we have more work to do. Mayor Cheryl Cox
Chula Vista, Calif. (PRWEB) October 22, 2014
The Chula Vista Animal Care Facility(CVACF) opened a new multi-purpose structure this week called The Cottage. The 1,079 square-foot building is the latest edition to the CVACF since the expansion project for the existing Cattery was completed in 2012. This latest accomplishment for the CVACF is another step in an ongoing $1 million campaign to help enhance housing, care and adoption rates for animals at the facility.
"This facility serves the cities of Chula Vista, Lemon Grove, National City and Imperial Beach, so The Cottage will help care for the many animals that live here before adoption," said Chula Vista Mayor Cheryl Cox. "We are now nearly 40 percent complete with the fundraising campaign and next I hope to address the needs of the dog kennels."
As CVACF staff looked at the long-term needs for the facility, they first wanted to address the cat population, which can increase dramatically at certain times of year. The goal was to reduce the risk of euthanization and make living conditions more comfortable. Next, the staff wanted to implement a flexible space that could adapt to house delicate, smaller animals like rabbits, puppies, small dogs and kittens. The Cottage will serve in this capacity and make adoption interactions more engaging.
Now, the CVACF is focused on enhancing the dog kennels. To complete this project, Mayor Cox is seeking a combination of donations, grants and in-kind donations from contractors and builders. To donate directly to the CVACF, visit CVACF.org and click on the Donate Today link. All donations are tax deductible.
About the Chula Vista Animal Care Facility
The CVACF is a municipal animal shelter operated by the City of Chula Vista, ensuring the health and safety for animals and residents in Chula Vista, Imperial Beach, National City and Lemon Grove. The CVACF's primary objective is to promote quality care of animals that include but not limited to dogs, cats, rabbits and reptiles by sponsoring and promoting spay and neuter programs, increasing pet adoptions, decreasing euthanasia rates and promoting responsible pet ownership. Approximately 10,000 animals, mostly stray cats and dogs, find refuge at the CVACF each year. The CVACF has a successful adoption program. Stray animals not claimed by their owners are put up for adoption after a thorough medical exam and behavioral assessment. Before pets leave the facility, they are spayed or neutered by medical staff, including doctors and Pima Medical Institute students. The CVACF helps pet owners access low-cost spay and neuter services through the Spay Neuter Action Project (SNAP). In addition, the CVACF re-unites pets with their owners and responds to emergencies involving injured strays. The CVACF also offers online dog license applications, low-cost rabies vaccinations and low-cost microchip service to residents on a walk-in basis.