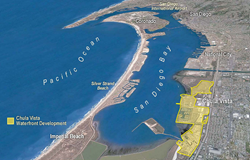 Chula Vista and the Port have cleared the way to create a shovel-ready project on prime bayfront property - Chula Vista Mayor Cheryl Cox.
Chula Vista, CA (PRWEB) June 05, 2014
In June 2014, the Port of San Diego will issue a Request for Qualifications (RFQ) seeking a developer for a signature convention destination resort hotel as part of the Chula Vista Bayfront (CVB). The CVB project is one of the last great waterfront development opportunities in California and is creating a legacy destination for the public. It will transform 535 acres on San Diego Bay into a world-class destination for domestic and international visitors alike.
Port Commissioner Ann Moore stated, "The Port's investment in this important new waterfront destination will truly transform the City of Chula Vista and San Diego's South Bay region. We are excited to enter this important developer selection process."
The world-class convention-oriented destination hotel and resort fronting San Diego Bay will be the centerpiece of the CVB. Respondents to the RFQ will need to demonstrate their skills and ability to finance, design and construct a large-scale environmentally-sustainable convention-oriented destination hotel and resort. Short-listed development teams will likely be required to identify the intended hotel brand and operator during the second (Request for Proposals) phase of the selection process.
"With an improving U.S. economy and predicted increases in business and leisure travel, Chula Vista's unique location on San Diego Bay is sure to attract strong interest from the development community," said Chula Vista Mayor Cheryl Cox. "Chula Vista and the Port have cleared the way to create a shovel-ready project on prime bayfront property."
A recently prepared report, Tourism Economics for the San Diego Tourism Authority, estimates that San Diego's overnight visitor volume will increase 1.8 percent annually on average during the next four years. According to the report, while annual hotel room demand is expected to increase more than 2 percent each year for the next four years, supply is estimated to increase at a lesser pace. This market supply tightening is projected to increase ADR an average of 3.9 percent per year and Revenue Per Average Room (RevPAR) by 4 percent – 6 percent per year from 2014 to 2017.
The CVB will also provide the necessary infrastructure for convention demand along with more than 200 acres of parks and other open space areas, including a signature public park, walking trails, interpretive signage and shoreline promenades. Marina improvements will create an active commercial harbor with retail shops, restaurants and public space at the water's edge. In addition to development on Port lands, complementary mixed use residential is planned on adjacent private lands by Pacifica Companies.
The CVB has the potential to stimulate the economy, generate quality local jobs, protect natural resources, and create public amenities. Surrounded by unique and valuable natural resource lands, the CVB project seeks to best protect and enhance environmental resources while accommodating reasonable commercial development for a vibrant and viable waterfront project.
Jones Lang LaSalle is the lead advisor to the Port and is providing advisory support on all aspects of the project.
Project Background
After completing a decade-long planning effort led by a unique cooperative effort between the Port and the City of Chula Vista, which included over 100 public outreach meetings and clearing numerous regulatory hurdles, the Master Plan was unanimously approved by the California Coastal Commission on August 9, 2012. Moving forward, the Port and City have formed a Joint Powers Authority, which will facilitate governance, infrastructure financing, and necessary "gap" capital funding for the convention center portion of the project.
About the Port
The Port of San Diego is a unified district encompassing five member cities surrounding San Diego Bay. A public agency, the Port is charged by the State of California with developing the tidelands and commercial business as steward of the public-trust tidelands along 34 miles of San Diego Bay. We share the waterfront with the Navy, which oversees 17 miles of San Diego Bay.
We operate under the Public Trust Doctrine, which specifies that these waterways and waterfronts are primarily reserved for water-dependent uses such as fishing, cargo activity, bay tours and recreational access such as hotels and restaurants; as well as environmental and natural-habitat preservation.
We have guided the development of this prime waterfront property with a carefully selected portfolio of world-class commercial real estate, maritime and public uses. Our 16 hotels, 25 marinas, numerous restaurants, tours and museum attractions operate side-by-side with a working waterfront of boatyards, sportfishing landings and marine cargo terminals. We also maintain 20 public parks as amenities that attract visitors and enhance the value of our waterfront.
About the City of Chula Vista
The City of Chula Vista is located at the center of one of the richest cultural, economic and environmentally diverse zones in the United States. It is the second-largest City in San Diego County with a population of more than 250,000. Chula Vista boasts more than 50 square miles of coastal landscape, canyons, rolling hills, mountains, and a variety of natural resources and quality infrastructure. Established neighborhoods, contemporary communities, start-up firms, corporations, nationally recognized entertainment venues, the nation's only warm weather Olympic Training Center, an award winning nature center and a historic downtown all contribute to Chula Vista's attraction for both families and businesses.