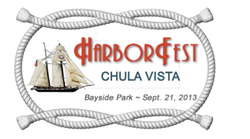 Chula Vista, CA (PRWEB) September 09, 2013
Chula Vista HarborFest is set for September 21, 2013 from 11 a.m. to 8 p.m. at beautiful Bayside Park. This admission free event will feature a wide array of activities for families and friends to enjoy. This year's waterfront festival will celebrate the Port of San Diego's 50-year anniversary, featuring live bands, engaging educational exhibits with interactive programs offered by the Living Coast Discovery Center, historic seafaring vessels courtesy of San Diego Maritime Museum, playful harbor activities on the water, fishing, exotic wheels and wooden boats, a fantastic Youth Zone and more. New to this year's HarborFest are the much anticipated ticketed events including a Sustainable SeafoodFest, Baja Wine Tasting and Craft Beer Garden.
Guests will enjoy the following attractions:
Watch spectacular boats set sail in the inaugural boat parade. Take a trip back in time with a tour of the tall ship Californian and the historic steam yacht Medea. Go for a free ride on San Diego Maritime Museum's Vietnam era Swift Boat or jump aboard the Amphibious Seal bus for a tour of the harbor.
Gain culinary inspiration as you watch Flor Franco and other top celebrity chefs from regional restaurants prepare their signature dishes. Breathe in the fresh sea air and sample savory seafood delicacies at the first ever Sustainable SeafoodFest for just $20 per ticket as you taste a mouthwatering variety of seafood harvested around the coast and sample succulent specialties incorporating lobster, shrimp, crab, mussels and many more seafood delights.
Check out the Craft Beer Garden with some of the finest craft brews San Diego has to offer. Wine connoisseurs can breeze by the Baja Wine Garden with flavorful sips and samples from Baja wineries. Beverage Garden ticket prices will be just $2 per tasting and $6 per full glass.
Scout out some new favorite bands at one of the three stages, including a Youth Stage, Community Stage, and Main Stage. Bring the entire family to check out the Youth Zone, sponsored by SeaWorld Aquatica, and Youth Stage, where you will be entertained by the hippest DJs and bands, while extreme sport athletes perform challenging tricks and jumps in the BMX Exhibition.
Cruise by the striking exotic wheels that will line the shores of the bay and check out the electric car displays sponsored by Car2Go.
Let the kids explore and experience the coastal ecosystem in a completely new light with educational exhibits from The Living Coast Discovery Center. Be sure to get up close and personal with some of the world's most exotic reptiles in the thrilling reptile exhibit.
The Art in the Park exhibit will showcase masterpieces from local Chula Vista artists.
For updates and more information on this extraordinary event, and to reserve booths or purchase tickets for the SeafoodFest or Beverage Garden, please visit http://www.cvharborfest.com or call 619.233.5008.
McFarlane Promotions
656 5th Avenue, Ste. B San Diego, CA 92101
619-233-5008 Fax 619-233-0898
E-mail – alysia(at)mcfarlanepromotions(dot)com
http://www.mcfarlanepromotions.com