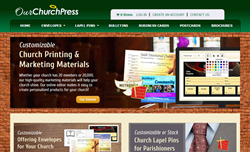 With low-minimum orders and pricing that saves money, any church can have printed marketing materials that they can be proud of.
Winter Haven, FL (PRWEB) January 06, 2015
OurChurchPress.com, a print-on-demand provider for churches and faith-based organizations, today announced the launch of its new website. OurChurchPress was created to give churches of all sizes and denominations access to quality marketing materials at below-market pricing.
OurChurchPress developed an easy-to-use online design tool which allows users to customize the site's pre-designed templates and also gives users the ability to upload their own designs. With low-minimum orders and pricing that saves money, any church can have printed marketing materials that they can be proud of.
OurChurchPress offers hundreds of customizable templates for a variety of church marketing materials – including Offering Envelopes, Remittance Envelopes, Church Bulletins, Business Cards, Lapel Pins, and more. Users can control fonts and colors, as well as drag-and-drop text into position.
OurChurchPress.com includes the following features:

Fully Customizable Online Editor: Users can customize church design templates or upload their own designs, directly from the site.
Full-Color Printing: Beautiful full-color printing is now available to everyone, at great prices with low minimum quantities. Users will receive high-quality, professional printing that they can be proud of.
Fast Delivery: Orders will be entered as soon as they are received. Most products are printed within 24 hours and shipped using the shipping method of choice.
Easy Proofing: Users will be able to preview uploaded files and instantly proof their customized design before they place their order.
Personalized Accounts: Users can create an account to help them manage their designs and track order history.
Reorder Reminders: The site offers a built-in reorder reminder system to ensure that users will never run out of supplies. The built-in QR Codes make the process even easier.
Monthly Specials: Each month OurChurchPress offers many of its popular products at substantial savings! The monthly specials section is offered by extending their purchasing power and acquiring substantial shipments from many of their vendors and suppliers. These purchases are done with the intent of offering customers great savings served up each and every month.
The OurChurchPress.com site has been available to consumers through a beta launch for the past month, receiving overwhelming positive feedback. The site will continue its evolution introducing new design templates and products for churches and features with cross-platform integration into its desktop and upcoming mobile offerings.
About OurChurchPress.com
OurChurchPress (http://www.OurChurchPress.com) was founded by a local print shop with years of church printing and church marketing experience. They spent years working closely with many churches to develop the tools needed to achieve the highest quality products at the lowest prices.