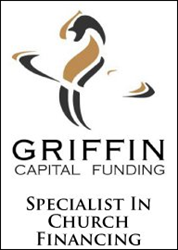 Just because a church is declined for a loan from a bank does not mean that we would say no or that they would pay more for a loan from us
Fredericksburg, Virginia (PRWEB) August 02, 2014
Griffin Capital Funding, a leader in church financing for over 15 years, will now provide potential clients a free no obligation assessment of the churches borrowing ability.
As a church prepares itself to seek funding, they find themselves trying to determine what they can afford to borrow, this can lead to preventable and costly mistakes. The most common mistake that we see would be churches that have plans to construct a new building, only to find out that they cannot afford to bring those plans to fruition. With a free assessment from Griffin Capital Funding, a church can quickly find out what it can afford to borrow. In turn, the church can communicate these numbers to their architect ensuring that the plans drawn up are within budget. Another example is churches that are ready to purchase a property, but they do not know how much they can afford to borrow. Griffin Capital Funding can analyze and provide to the church their borrowing capacity within 24 hours under normal circumstances and also tell the church what can be done increase the amount the church can borrow.
When a church is declined for a loan from a traditional bank, they are often given very little information about how to turn the No into a Yes. However, Griffin Capital Funding can pinpoint the financial areas that need to be improved upon and help provide a solution that might solve funding problems for the church. "Just because a church is declined for a loan from a bank does not mean that we would say no or that they would pay more for a loan from us. We often approve loans that have been turned down by other lenders." stated John Berardino, Senior Vice President of Griffin Capital Funding.
John Berardino was asked about the financial assessments he replied, "It is quite common for banks to issue a loan approval to a church with no credit counseling during the loan process. This can lead to the church inadvertently doing something that could damage the likelihood of their loan being funded. On the flip side, many churches are told no, but not told what they need to do to get approval or even when they should reapply for a loan or how much they do qualify to borrow. Banks have a disconnect between their branch employees that see the customers and the underwriters that make the loan decisions. The branch employees have no idea why a loan is approved or declined, so they cannot offer any assistance to the church."
Those interested in learning more about Griffin Capital Funding or financing for church properties can visit http://www.churchloans.net or call John Berardino at 540-736-7360.