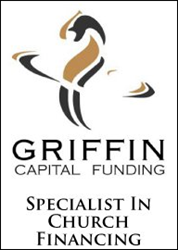 Griffin Capital Funding is confident that if we cannot close your loan, no one else will be able to either.
Fredericksburg, VA (PRWEB) June 12, 2014
Griffin Capital Funding, a leader in church financing for over 15 years, is helping first time buyers of worship facilities.
It is very difficult for new and small churches to borrow money from traditional banks but having a sanctuary of their own is an important investment for churches. Sanctuary ownership helps strengthen community ties and parishioners' commitment to their congregation. Griffin Capital Funding will help churches that have been in operation for as little as three years get the financing they need to buy a place of worship.
The Chicago market is a tough region to get any loans approved, and even more difficult are loans for young, small churches. But, Song Quichocho of Griffin Capital Funding fought to get a non-denominational new church approved for an $112,000 loan to purchase their first building. Before the church found Griffin Capital Funding, they had saved their money for a down payment and approached several banks for financing, but they were turned down by all of them. The church believed that they were supposed to own a building, so they continued searching for someone that would listen. This led the church to Song Quichocho at Griffin Capital Funding. In the words of their Pastor, "Thank you for helping Word of Faith get the loan. Word of Faith now has a place to call home and a place to worship God!"
When Song Quichocho was asked about his success in helping a small church, he replied, "Griffin Capital Funding is confident that if we cannot close your loan, no one else will be able to either. That is why we tell our clients from the beginning, if we turn you down and you are able to get another lender to finance your loan, we will pay you $100. All of the loan officers here know the details of church loans and we are able to help small or new churches when no one else can. In addition, we understand the importance of a church owning their own property. This allows them the flexibility to grow and change as needed."
Those interested in learning more about financing for church properties can visit http://www.churchloans.net or call Song Quichocho at 540-736-7362 for more information.
About Griffin Capital Funding
Griffin Capital Funding has been serving churches for 15 years by providing church loans for the refinance, construction, renovation and purchase of almost any church building (churchloans.net). On average, Griffin provides over $100,000,000 a year in loans to churches. Griffin Capital Funding is one of the most well-known and respected church financing companies in the country. Griffin Capital Funding also offers loans to for profit businesses through the SBA 7A and 504 loan programs as well as offering hard money loans.