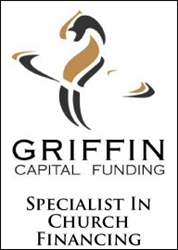 I am extremely excited about my new position with GCF. We already have a great team; my job is to make it even better
Fredericksburg, VA (PRWEB) December 02, 2014
Griffin Capital Funding re-hires one of the nation's most successful non-profit loan officers.
William "Bill" Davis was one of Griffin Capital Funding's first loan officers, and he closed some of the biggest church loans in the nation. Now, brought back in a new role, Bill will be passing on his skills as the Manager of Griffin's Church Loan Expert team.
Bill started working for Griffin in about 1994 as a loan officer; he took to church loans like a fish to water. With his knowledge of church culture by growing up a Pastor's son, Bill was able to talk to church leaders easily and understand their financial goals. Paired with his connection to the church community, Bill soon became Griffin's highest grossing analyst and was eventually made head of the Church Loan Division. Griffin hired more loan officers, and John Berardino looked to Bill to help make new team members successful in their positions.
In 2009 with the downturn of the economy Bill decided to move on, he accepted an offer as a motivational speaker and sales coach for the most successful ADT franchise in the nation. Bill helped to take the franchise to record sales levels.
While Bill was with ADT, Griffin Capital Funding continued to grow. With thirty Church Loan Experts across the nation, John Berardino felt it was time to bring the sales program to the next level. John called his friend and premier cohort to fill the position, and Bill accepted. When John Berardino was asked why he sought to bring Bill back on board, he replied, "Bill's knowledge of the process, understanding of churches, sales experience and motivational speaking, are the exact skills we were seeking. With his expertise, we expect to see growth in major markets nationwide." As for William's comments, he is to the point, "My goal for next year is to triple our number of closings from 2014. I am extremely excited about my new position with GCF. We already have a great team; my job is to make it even better."
Those interested in learning more about financing for church properties can visit http://www.churchloans.net or call John Berardino at 540-736-7360 for more information. Those interested in learning more about Griffin's hard money loan program can visit http://www.statedcommercialloans.com or call John Berardino at the same number listed above.
About Griffin Capital Funding
Griffin Capital Funding has been serving churches for 15 years by providing church loans for the refinance, construction, renovation and purchase of almost any church building (churchloans.net). On average, Griffin provides over $100,000,000 a year in loans to churches. Griffin Capital Funding is one of the most well-known and respected church financing companies in the country. Griffin Capital Funding also offers loans to for-profit businesses through the SBA 7A and 504 loan programs as well as offering hard money loans.