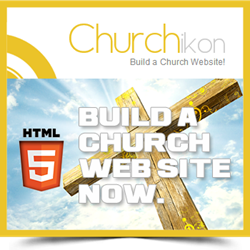 Churchikon was born, with the aim of providing an exclusive website solution like no other tool does, offering all the features that make a good Church website.
(PRWEB) January 29, 2014
The youth in today's times is not naturally inclined towards church. Initiating the young towards religiosity and God-mindedness is what most ministries and churches have an aspiration for. So it becomes pertinent to have a presence in the space that the youth of today visit the most - the webspace. And as these websites grab more eyeballs of the youth, it will automatically influence them towards the higher causes that the Church as an organisation is committed to.
Churchikon launches one of its kind HTML5 website builder, specially designed for church, ministries and charity services. The website builder is loaded with innovative features developed exclusively to meet the needs of church and non-profit organizations. And all this comes in extremely affordable pricing so that the client gets the best-looking website without burning a hole in the pocket. "Today a website is imperative for any set-up – even more so for a ministry or non-profit agency. There are a number of website builders in the market that are subscribed to by church and charity firms. But what struck us was the gap in terms of catering exclusively to the needs of such organizations. And that's how the idea of Churchikon was born, with the aim of providing an exclusive website solution like no other builder does, offering all the features that make a good church website." - Says Business Development Manager – Abhy Khaitan.
Why go for Churchikon?
Churchikon offers the best features at the cheapest rates. Also, it is very easy-to-use. So not only is it pocket-friendly but also user-friendly. "Making a website builder which is utmost convenient and available at extremely affordable price was our main motive. 100% customer satisfaction is what we aim for. And for that we had to provide them with a hassle-free website builder which will help them create a website just like they have always wanted, from the comfort of their homes. Churchikon does just that!" adds Abhy Khaitan.
You don't have to be an expert to build a website with Churchikon. With the website builder's exceptionally easy-to-use features and tools one can get the exact website one desires, effortlessly. Now ministries and church organizations can get a website of their own in just a few clicks.
The website builder comes with a free trial. Clients are also provided with 24/7 helpline for any further assistance.
Churchikon not only offers the most convenient and attractive website but also helps in increasing the visibility of the website. SEO (search engine optimization) and SMO (social-media optimization) are two of the many amazing features of Churchikon which makes it the best church website builder in the market. The website builder not only ensures a catchy and appealing website but also the much needed popularity of the website created.
The Extra-ordinary Features:
Mobile View
In this age of smartphones, it is important to have a website which can be viewed through mobiles as well. With everyone hooked to internet over phones, a website needs to look as attractive on phones as it does on a computer. The innovative technology used by Churchikon helps in building a website that can be accessed through mobile phones too.
Events Tool
All the events and ceremonies can be managed and advertised through the one-of-its kind events tool provided by Churchikon. The sermons, mass, festivities and special occasions can be updated over the website through this events tools, a convenient way to let people know about the upcoming events at the church.
Donations Management
Accept donations on the go by just adding your PayPal code. Easily collect donations to help the less fortunate. Easily add volunteers who can donate and add wings to your ministries mission.
Online Store
The online store can be installed to sell books, CDs or any other items. What's more, it supports various payment methods like Paypal and 2checkout.
Templates and Designs
The templates and designs are exclusively designed for church and ministries, by a team of expert graphic designers. The pre-built designs make the website unique and beautiful, attracting more and more visitors.
Image Gallery and Media Player
Images and music videos can be uploaded on the website making it even more interesting. People can stream sermons and prayers and anything that they might have missed out on.