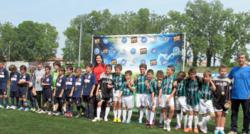 Italy (PRWEB) July 08, 2013
Students from Monza and Civate in northern Italy are now Junior Ambassadors for Human Rights, an award they earned June 15 after competing in a soccer match dedicated to human rights awareness.
Organized by the Association for Human Rights and Tolerance of Italy and sponsored by the province of Monza and the region of Lombardy, hundreds of parents and relatives cheered the youth on to victory.
Scientologists on five continents engage in collaborative efforts with government agencies and nongovernmental organizations to bring about broad-scale awareness and implementation of the 1948 United Nations Universal Declaration of Human Rights, the world's premier human rights document.
The Church of Scientology published Scientology: How We Help—United for Human Rights, Making Human Rights a Global Reality, to meet requests for more information about the human rights education and awareness initiative the Church supports. To learn more, visit http://www.Scientology.org/humanrights.
Scientology Founder L. Ron Hubbard wrote, "Human rights must be made a fact, not an idealistic dream," and the Scientology religion is based on the principles of human rights. The Code of a Scientologist calls on all members of the religion to dedicate themselves "to support true humanitarian endeavors in the fields of human rights."
Press Contact: Karin Pouw
Tel: (323) 960-3500
eMail: MediaRelations(at)ChurchofScientology(dot)net