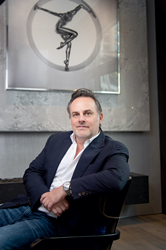 CHICAGO (PRWEB) March 03, 2023
The Haute Design Network, well known for its exclusive and luxurious lifestyle publication Haute Living, is privileged to announce that Michael Miller, principal and founder of CI Design + Build, has renewed his commitment as member and expert in the interior design field in the Chicago market for a third year. As a Haute Design partner, CI Design + Build exclusively represents the Interior Design market of New York, NY.
Designed as a partnership-driven luxury design portal featuring two leading interior designers in each prominent market across the world, Haute Design focuses on growing its members' brands as key influencers on design and deemed to be the best in their specific market.
ABOUT CI DESIGN + BUILD
With a passion for art and luxury design, in 2010 principal Michael Miller established CI Design + Build, a boutique firm specializing in turnkey solutions for high-end residential renovation.
Michael's entrepreneurial outlook, technical education, experience, and architectural & mechanical background make him the ideal leader for all aspects from Conceptual Design-to Construction Completion.
Michael created a collaborative environment and network of industry experts; craftsmen, licensed tradesmen, architects, designers, and project managers, working in harmony to produce superior results. CI Design + Build is redefining the art of building with their services including development, consulting, design-build, construction management, general contracting, interior architecture/design, furnishings, and art procurement.
Michael's love of art led him to launch an art gallery within the studio's showroom giving clients premier access to globally accomplished fine artists. Michael continues to innovate by uniting the design/build, art, and technology worlds with a breakout way to view the finest digital art, known as Apollo.
With a meticulous attention to detail, Michael is committed to delivering innovation, precise execution, extraordinary design, and superior customer service to each client. The integrated services, unique skill set, and enthusiasm makes CI Design + Build unparalleled in the industry.