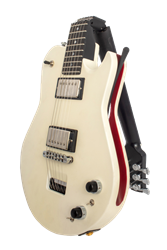 Never leave your passion at home
SAN DIEGO (PRWEB) July 18, 2019
After a successful debut at the NAMM (National Association of Music Merchants) annual industry show in January 2019, Ciari Guitars is set to return this summer with the first production release of The Ascender, the folding electric guitar redefining playability and portability in a premium package.
The Founders Build of The Ascender by Ciari Guitars will be an initial run of 100 guitars, made available to members of their longtime Interest List and in-person visitors at this year's Summer NAMM before sales go public. Reservations for purchase can be made with a $500 down payment starting Thursday, July 18th, 2019.
Jonathan Spangler, Ciari Guitars CEO & Founder, says, "Launching pre-sales of The Ascender at Summer NAMM in Nashville is meaningful to our team of engineers and passionate musicians on many levels. Not only is our guitar made right in Nashville, but we will be surrounded by our supporters and music industry friends as we celebrate this piece of our history."
In cooperation with Joe Glaser, the owner of Nashville-based Glaser Instruments and Ciari Advisory Board Member, each guitar is made using Plek neck technology to ensure perfect action.
When folded, The Ascender can fit into a standard backpack, taking up less space than any travel guitar on the market. In a few seconds, a concealed lever is released, which detensions the strings and unlocks the hinge located at the base of the neck so it can bend completely backwards.
Returning the guitar to playing position is as simple as straightening the neck and returning the lever to its concealed, locked position. When unfolded at the neck, The Ascender is a full-size, 22-fret, 24 3⁄4" scale, gig-ready electric guitar with a traditional look, single cutaway design, and high-quality finish. It features a familiar soft "C" style neck profile, Tune-o-Matic roller bridge and, GraphTech Ratio locking tuners for secure and reliable tuning, and Seymour Duncan® '59TM Model neck and bridge humbucking pickups for a versatile tone with a bright attack.
"The inspiration behind engineering The Ascender was personal, being a passionate musician but also frequent business traveler," Spangler said. "Until now, the only real resolution to the stress and uncertainty of in-flight damage to a guitar was to leave it at home. But if you don't like the available options, make what you want and maybe others will want it too. For me, that was a gig-ready, premium guitar that can fold and fit under the airplane seat in front of me, and the industry responded with enthusiasm."
Available exclusively on ciariguitars.com, The Ascender will be offered in a range of solid colors at the introductory price of $2,999, with the opportunity to upgrade further in deluxe features and finishes. The electric guitars will arrive with a protective, padded gig backpack and can be expected within four months of ordering.
For more information, visit ciariguitars.com or find Ciari Guitars on social media using the handle @ciariguitars.
About Ciari Guitars
Ciari Guitars was founded in 2016 by CEO Jonathan Spangler, a patent attorney and amateur musician. Based in San Diego, CA, Ciari Guitars received high praise in 2018 from the debut of an early prototype of the Ascender at Summer NAMM '18 in Nashville, TN. Among its fans is Nashville recording artist Justin Johnson, who showcased it for his 660K+ Facebook Live audience the very day he discovered The Ascender at the industry event. Ciari Guitars is a proud member of Project Music, a leading music-tech accelerator for start-ups, run by the Nashville Entrepreneur Center.